Twilight Zone
5.6, Trad, 460 ft (139 m), 4 pitches, Grade II,
Avg: 2.9 from 10 votes
FA: K. Bridgens & T. Jones, 1975
International > N America > Canada > Alberta > Bow Valley > Kid Goat Buttress
Access Issue:
Old access crosses private property
Details
The shortest access around the west side of the dump has heavy equipment operating during the week and should be avoided. Instead, use the access around the East side of the dump; it's longer but safer.
Description
P1 - 5.5 35m
Easy meandering climbing to the chains.
P2 - 5.6 30m
Interesting corner and crack system leads up to a fun limestone-style finger/hand crack.
P3 - 5.6 40m - crux pitch
Easy slab to easy roof, to easy slab, to easy roof.
P4 - 5.5 35m
More easy slab to easy roof, then walk to the chains.

Rock overall is good quality, and the route is quite fun.
Banff Rock has a detailed PDF available with description and topo of all the climbs on Kid Goat.

This climb has been retro bolted and very little trad gear is needed. It takes a few small cams to BD #1 in the second pitch, otherwise it's protected with fixed gear.
Location
Starts under a small cave a few routes climbers left of Grey Wave, and one route right of the tree island. Marked on the rock with "TWZ". Descent is via rappels, doable with 1 60m rope
Protection
All belays are bolted. There are a few bolts and pitons here and there on the climb. Other than that a small rack is needed.
Photos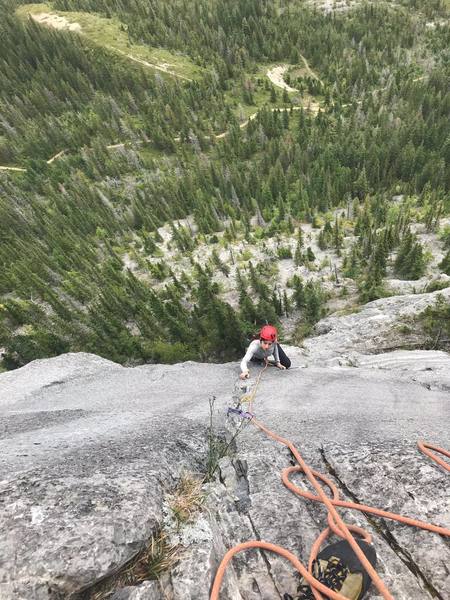 Pitch two, going up the nice finger/hand crack.