Climbing on Rainbows
5.10a, Trad, 70 ft (21 m),
Avg: 2.5 from 2 votes
FA: Bill Robbins, 1989
Washington > Central Region > Frenchman Coule… > Sunshine Wall > Near End of Sunshine…
Description
This was described as 10a R-rated in the guide book, so I had been avoiding it, but found it to be actually pretty good, solid rock and good pro. It is nothing special, more like a face climb protected by a crack. Most of which is 5.9, but a few thin finger lock moves make it 10a.
Location
starts up rubble covered broken columns to the right of Under Duress.
Bob Dylan on the left.
Puppies in the blender is next crack to the right, with anchor visible.
Protection
mostly a thin finger crack, all .3 - .4 Camalot size, with many medium nut options. No anchor, good #2 and .5 crack for anchor. Could rap off of Puppies- which would be a good TR as well.
Photos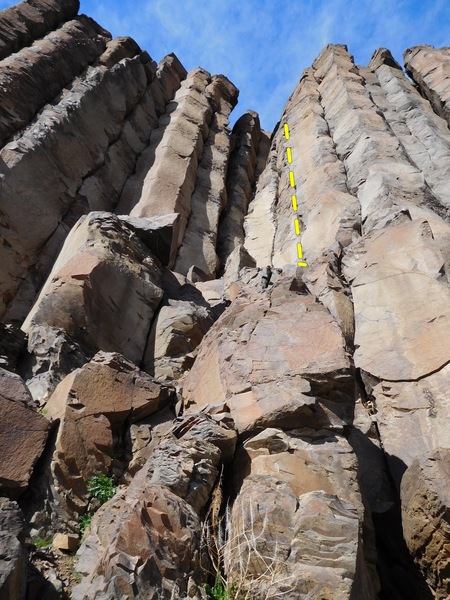 This picture shows the alcove that is on the right and up the crumbly slope from Under Duress. The yellow line is Climbing on Rainbows.