The Matrix
WI5+, Trad, Ice, 150 ft (45 m),
Avg: 4 from 3 votes
FA: unknown
New York > Adirondacks > Adirondack Ice… > E: Interior Hig… > Avalanche Lake/Pass
Description
This is one of THE classic hard ice routes in the Adirondack Park, right up there with Ice Storm and Artificial Gravity, among others. It's a very long, taxing pitch with multiple cruxes. In a typical ice year, the protection is involved, and just barely adequate to give one the confidence to continue. There are also two direct mixed variations.

The route has the distinctive yellow-colored ice that characterizes the ice routes on this wall. It receives late-afternoon sun, and looks absolutely stunning in this light.

From the lake, walk up and left to a left-racing, right-rising ramp. (The route Gold Rush is just to the left.)

Climb the ramp to a stance below a 7" crack in an iced-up corner with a chockstone. Up the crack to a flat stance at its top, the "Launch Pad"; the wall above overhangs. Gear up here (pitons, tricams), then launch up the overhanging drips above. Continue up better ice past a left-facing corner to the final vertical columns that lead to the trees.
Location
The Matrix Wall is the steep, black wall just left of the entrance to the Trap Dike. The Matrix route is located on the left side of this wall.
Protection
Full ice rack with an emphasis on short screws, and rock gear including pitons, spectres, and tricams. For either of the directs, increase the rock gear.
Photos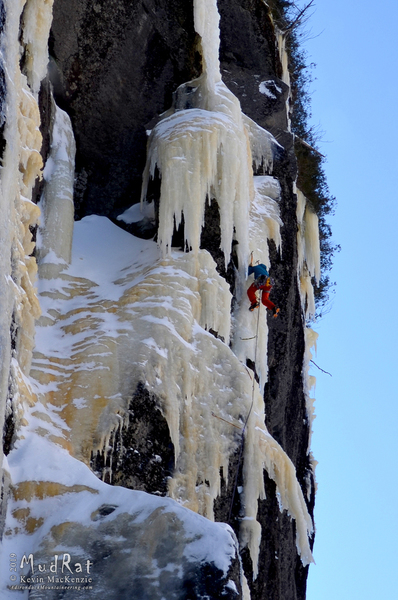 Devin Farkas below the last curtain on March 9, 2019.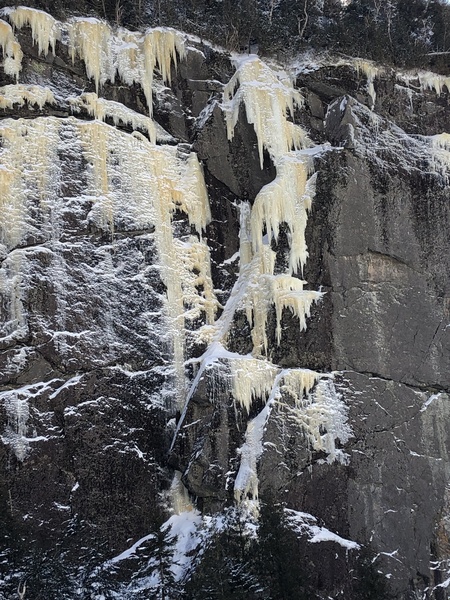 The Matrix in what I assume is thicker than typical conditions, March 2019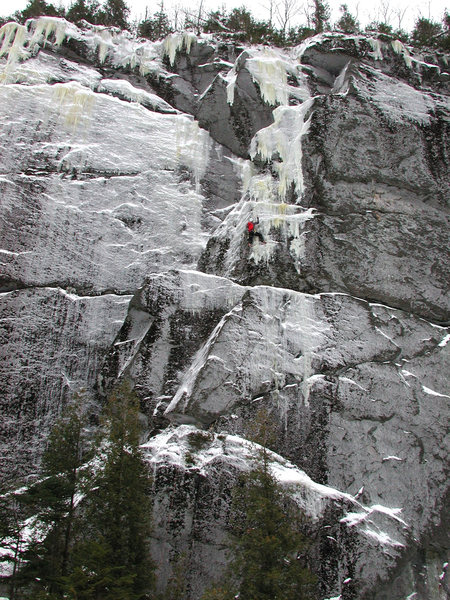 Climber high on The Matrix. (This was on the first ascent of one of the "directs", but the climber is positioned over the meat of the normal Matrix route, just above the "Launch Pad&…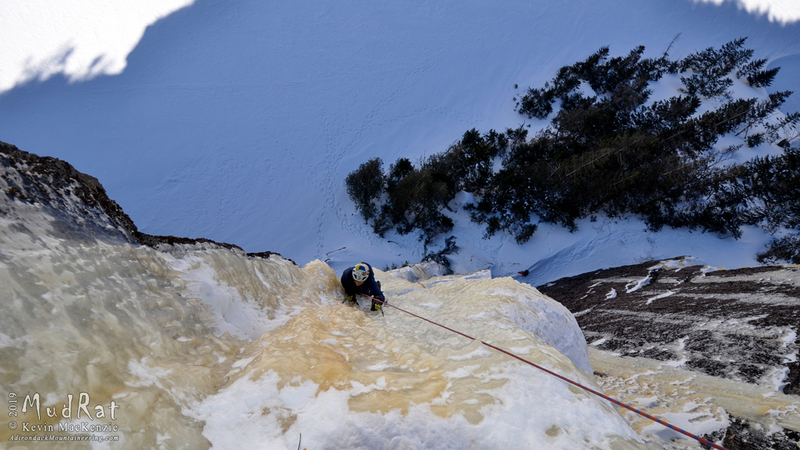 Marielle follows Devin Farkas and I up the route on March 9, 2019. I'm perched below the upper curtain to photograph.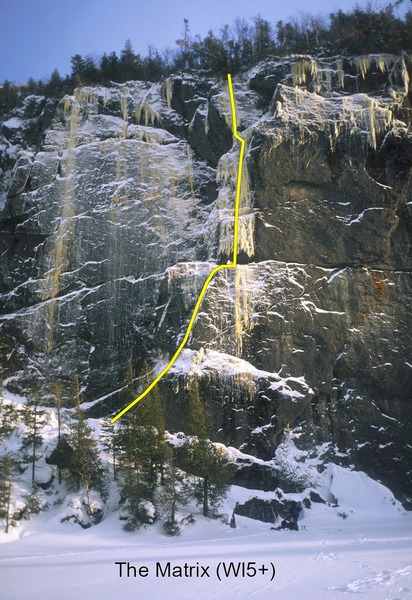 The Matrix Wall at Avalanche Lake, showing Gold Rush (on the left) and The Matrix (centered).