Shagrat
Avg: 2 from 1 vote
Your Difficulty Rating:
-none-
Change
Description
Fun climbing with good movement and a distinctive crux, though mostly quite easy. Probably an easy grab for a new E2 leader though the E probably comes from the pro situation, which looks sparse/sketch in the first half.

Start up the left side of a large flake/block 2 m off the ground and climb an easy calcified crack to a bulge with a questionable piton on the left and an unquestionably terrible thread on the right. Move up to an overlap/small roof (small gear) and pass this on the right (crux). Move up a right-facing corner on steep ground with easy holds. Step left around the corner at the top and finish easily to the tree.
Location
Locate the large flake/block in the center of the crag, 2 m off the ground. Shagrat goes up the crack on the left side of this (Gollum goes up the crack on the right side)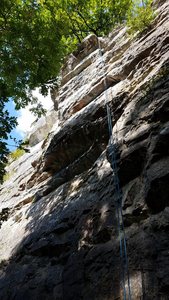 Shagrat
0