The Slash
Avg: 2.3 from 3 votes
Your Difficulty Rating:
-none-
Change
Access Issue:
Gate Buttress Area Recreational Lease: Climbs on Church Buttress above vault remain closed
Details
Climbers Partner with LDS Church on Stewardship of Little Cottonwood Canyon Climbing
June 1st, 2017:The Salt Lake Climbers Alliance (SLCA), the Church of Jesus Christ of Latter-day Saints (LDS Church), and Access Fund announce the signing of an unprecedented lease for 140 acres in Little Cottonwood Canyon (LCC). The parcel, known as the Gate Buttress, is about one mile up LCC canyon and has been popular with generations of climbers because of its world-class granite.
The agreement secures legitimate access to approximately 588 routes and 138 boulder problems at the Gate Buttress for rock climbers, who will be active stewards of the property. The recreational lease is the result of several years of negotiations between LDS Church leaders and the local climbing community.
Access Note: The climbs on the Church Buttress above the vault as well as the Glen boulders that have been traditionally closed will remain closed.
Please help us steward this area and leave no trace.
Read More:
saltlakeclimbers.org/climbe…
Description
Approach pitch: 100ft, 5.5
Wander up the slabs, ledges, and corner systems aiming for the base of the obvious hanging crack. Pro is sparse, but the climbing is easy. Belay at 2 bolts.

The goods: 50ft, 5.12a
A reachy first lock gets you off the slabs into a strenous traverse. A tricky corner turn gives way to hand jams straight up to the top. 2 bolt anchor. Short, but burly and 30° overhung the whole way. A worthy hard crack climb, though a bit gritty for now.

Descent:
Route is now equiped with ring hangers at the top of both pitches. Can be done in 2 raps with a single 60m, but watch your ends.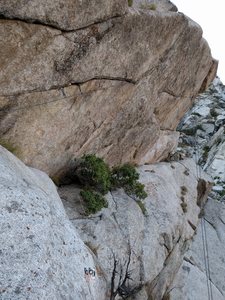 Steep!
0