Hotlum Glacier Route
AI1-2 Steep Snow, Ice, Snow, Alpine, 7000 ft (2121 m), Grade III,
Avg: 3.4 from 7 votes
FA: 1963 By Allen Steck and Bob Tripp
California > Northeast Calif… > Mt Shasta Area > Mt Shasta
Description
A great steepening glacier climb complete with crevasses, seracs, and bergschrunds to be navigated around and below an obvious rock head wall that can be climbed directly (rarely at 5.8), or (more popularly) bypassed by ice ramps on either side of the head wall (AI 1-2).

Ascend the glacier taking a path to minimize your overhead objective hazards that can include serac collapse induced avalanches, normal avalanches, and rock fall. Once at the head wall, several options are available to exit the glacier and summit Mt. Shasta. Option one is to take the "Hotlum Left Ice Gully", option two is to climb the Head Wall directly (5.8), or option three is to take the "Hotlum Right Ice Gully". Alternatively, you can exit the Hotlum glacier early and ascend the Hotlum-Bolam ridge to the climbers right to avoid harder technical climbing.

Depending on the variation you take and current conditions, exiting the glacier at the head wall, the head wall, or the ice ramps may be the crux of the climb. Sometimes one can carefully walk up the ice ramps, other times, you might feel compelled to pitch them out.
Location
Approach via Brewer Creek trail head. From the town of Weed, go north on highway 97 to Military Pass (Around 14 miles). Turn right (if coming from Weed) onto Military Pass (Gravel and Dirt Road) and follow signs to Brewer Creek trail head (around 19 miles from intersection of H 97 and Military pass).

Once at Brewer Creek Trail (7,200 ft.), follow it South West to West to the base of Hotlum Glacier.

Note, depending on where you chose to bivy (optional but recommended), you may or may not have access to water. We choose a creek just left of a small glacier pond near the terminus of Hotlum Glacier (10,100 ft). There was no water in Brewer Creek at the trail head. Something to consider if doing a two-day trip.

Descend the Wintun-Hotlum or Hotlum-Wintum Ridge.

Stop by the Fight Season climbing shop in Mt. Shasta to get your permits and the "Mount Shasta Climber's Review" topographical map and route summaries. You will be glad you did.
Protection
Standard gear for glacier travel and crevasse rescue, Avy gear, ice Ax and ice tool, 7 ice screws and slings depending on conditions. If climbing the rock variation, visit this trip report
blog.tuckercunningham.com/2…
for more information.
Photos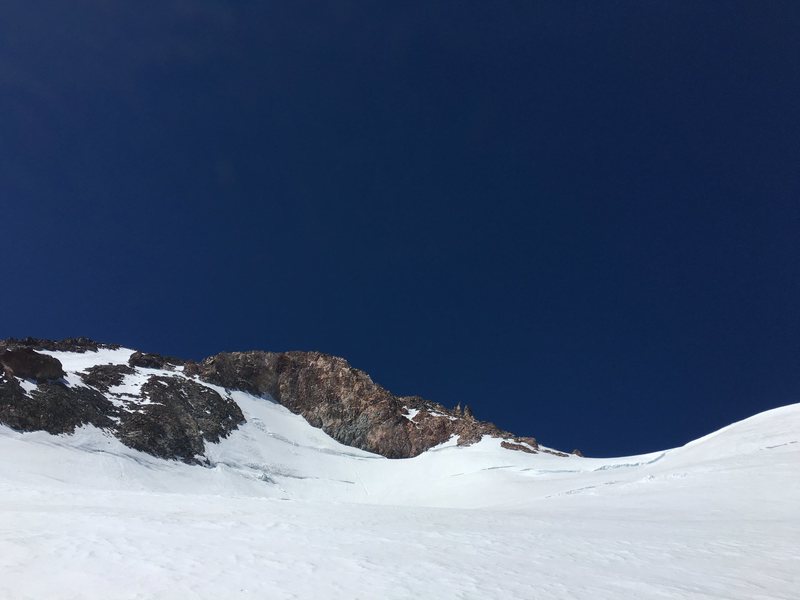 Shows the upper portion of the Hotlum Glacier.