Vandals Took The Handle
5.11a, Trad, Alpine, 350 ft (106 m), 3 pitches, Grade II,
Avg: 2.5 from 2 votes
FA: Mike Fredrichs, James Garrett
Utah > Wasatch Range > Central Wasatch > Lone Peak Cirque > Hyperform Wall
Description
Climb the first pitch of Thunder Crack to a bolted belay. It is possible to build a belay higher and to the right, probably better for the leader on P2.

Climb to the right, up the weakness through broken rock. The original route stayed in the corner to the right, we traversed left to the bolt, gaining the exposed arete. Continue up the arete to a nice stance and a 2 bolt belay.

P3 continues up the arete and face to a nice ledge. It is exposed and the protection comes when needed, but you can't sew it up.

3 raps down the bolted anchors. We had 2x60m ropes, 2x50m probably works. You can also scramble to the summit and take the same descent as Hyperform.
Location
Climb Thunder Crack, 100 feet left of Hyperform. The high point of talus to a big ledge with pine trees.
Protection
Standard LPC rack. Single 2 and 3 camalot is sufficient if using the bolted belays. The pro is a little sporty, so be comfy at the grade. I would have been happy to place offset aliens or totem cams as the cracks are flaring in some spots. The bolt on p2 is bomber.
Photos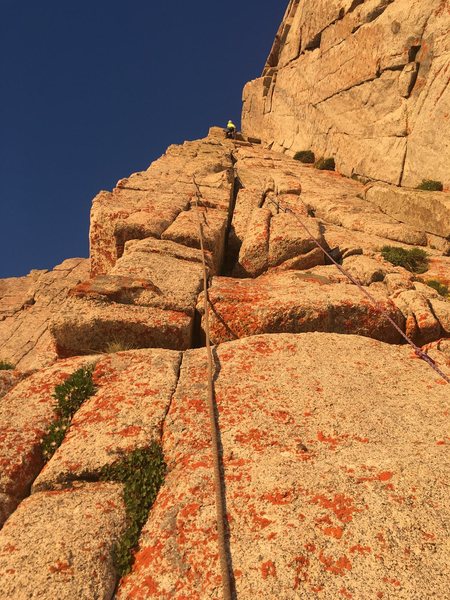 Pitch 3 in the Alpenglow