The Hauffice
Avg: 3.6 from 7 votes
Your Difficulty Rating:
-none-
Change
Description
Fun route on the far left side of the BARmuda Wall. Start on large holds and make big moves through sinker pockets. The crux comes after the second bolt with a long pull between huge holds. Cross right and cruise to the finish!

As a member of the BARmuda Triangle, The Hauffice will suck you in with her tasty burgers and never ending greasers playing covers.
Location
From the steep walls of The Shipyard and Bermuda Triangle, hike up a broken trail though the gully past the El Nino Wall, through a small hallway and down a small hill. The BARmuda Wall is the large pocketed face with a broken bottom.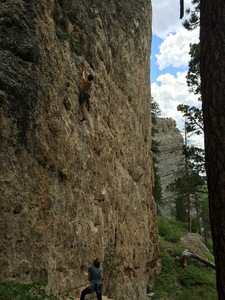 SHTUART
0