Sphincter Crack
Avg: 1 from 1 vote
Your Difficulty Rating:
-none-
Change
Description
Diagonal/Low-angle crack going up and left on the SE Face of Bigfoot Mating Grotto. There are shorter cracks that intersect the route, start from the very bottom. The FA was done as an onsight free solo, which was a challenge with all the lichen and loose rock. After deeming it worthy, I dropped a rope, pulled the blocks and scrubbed up the rock. Actually very unique and fun moves throughout the climb. Worth a lap if you are looking for some trad practice.

At the top, either go left up a hand crack to a gear anchor or right over steep bulges to the awkward bolt anchor for Hairy Palms.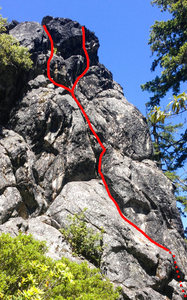 Route
0