Cover Girl
5.5 PG13, Trad, 150 ft (45 m),
Avg: 1.7 from 3 votes
FA: Cathy Connell & Sue Deming, May 1990
New Hampshire > WM: Kancamagus… > Lost Ledge
Description
Originally climbed without any bolts (5.4 -5.5 X) the 5/16-inch SS bolts were accidentally added by a later party which was unaware of the FA.

According to Webster, this was the first route in the White Mtns where the first ascent party was all women.

The first 10-15 ft of this climb is now horribly moss-and-lichen coated, so either have a big, strong wire brush or START on the first few moves of "Girls Prefer Batteries" and then step left to the flake.

START- Up the mossy slab past the curving, incipient flake (or, better, start on "Girls Prefer Batteries" and move right as soon as possible.)

Climbing right of the seam and bolt of Girls', climb to the large flake and protect. Now climb to the huge pothole [5/16 bolt], move left (crossing "Girls") and up to clean, brown, rock. Climb up passing 3 more 5/16-inch bolts to an anchor. The bolts are to the right, often an inch or two "into" the mossy rock.

Rap with 2 ropes, or with one rope swing to rappeller's right to one of the lower anchors.
Location
START - on the Carpet Slab, about 65-70 ft left of Carpet Slabber, and a few feet left of the 18-inch yellow birch tree. There is a curving, incipient flake 10-15 ft off the ground and a larger flake about 30-35 ft up. Much moss on the first 10-15 ft.
Protection
Medium Cam(s) for the flake
Draws for the bolts
Photos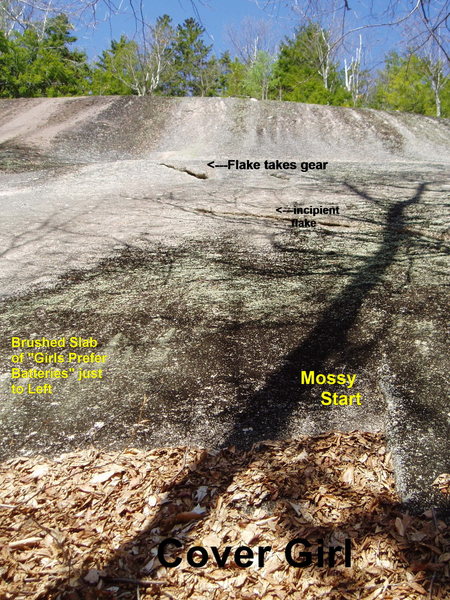 Cover Girl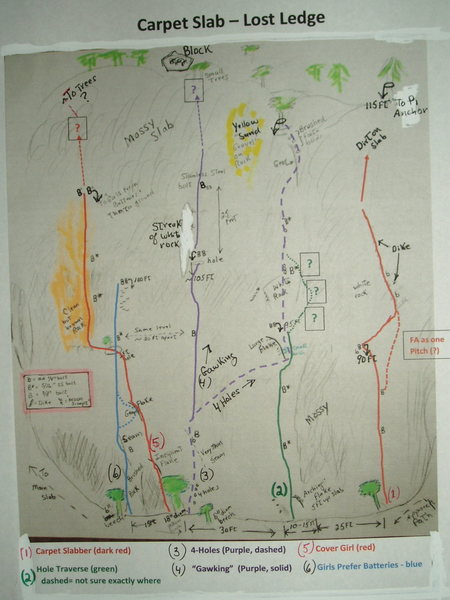 Sketch/Topo full Carpet Slab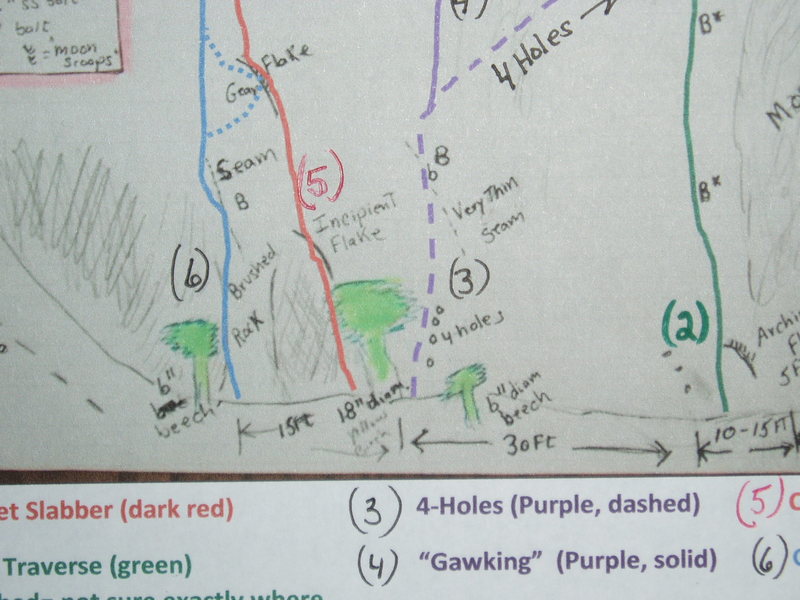 Sketch/Topo of STARTS of "Cover Girl" and "Girls Prefer Batteries"