Unsportsmanlike Conduct
Avg: 3.3 from 4 votes
Your Difficulty Rating:
-none-
Change
Access Issue:
New route development is prohibited in the Daniel Boone National Forest.
Details
fs.usda.gov/activity/dbnf/r…
Follow existing trails and climb using removable protection or in climbing areas with existing approved fixed anchors or bolts. Development of any new rock climbing, bouldering or rappelling areas and development of any climbing routes involving the permanent installation of new fixed anchors or new trail construction requires prior Forest Service authorization.
Description
Start on the boulder and begin climbing the crack. Expect hand jams, off fingers, fingers and crimps. Climb up into the tunnel and place a hand sized piece. Crawl through the chimney to reach a tree with a sling anchor.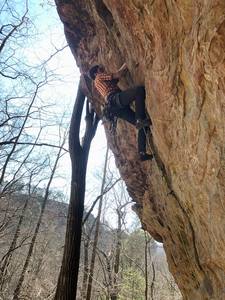 2
0