Beginners
5.3, Trad, TR, 35 ft (11 m),
Avg: 2.5 from 6 votes
FA: unknown
New Hampshire > Pawtuckaway > Ridgeline
Access Issue:
Please read the Covid warning in detail below - Parking Issues: Starting 10/24/20 a reservation will be required to park at Reservation Rd. on all days and for the Backside on the weekends. See
Details
Go to
nhstateparks.org/visit/stat…
for info and to make a reservation. This may change to every day in the future.
SNECc is encouraging all climbers to use caution and judgement to ensure they do their part to limit the spread of the coronavirus. Please reference the guidelines provided by the local government, land manager, and LCOs and ensure you have contingency plans if you are unable to maintain social distancing at the area you planned to climb at. For further guidance please reference the guidelines for New England climbers, provided here:
gunksclimbers.org/gunks-new…
Description
This might be the best practice trad pitch in the park. Quite easy and secure climbing on face holds and finger jams with perfect gear options all the way.
Yeah, it would be nice if it was longer but we can't have everything... Where would we put it.
Location
About 100 ft right of Cornered 5.7.
Protection
Nuts and small to medium cams. Belay from tree.
Photos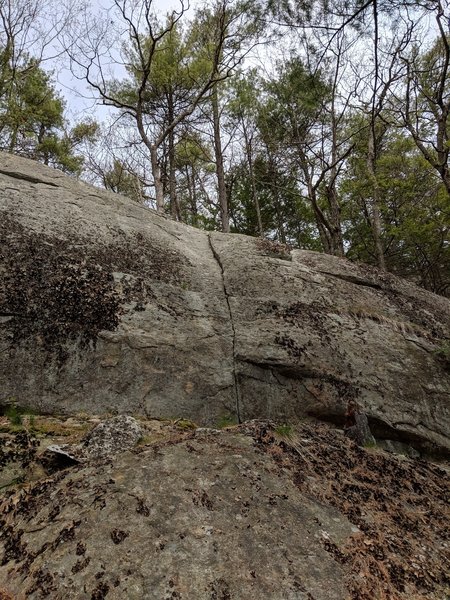 Beginners route