Proximity Infatuation
V11, Boulder, 18 ft (5 m),
Avg: 4 from 4 votes
FA: unknown
Pennsylvania > Southeastern Lo… > Haycock Mtn (No… > Outliers
Description
This one is WAY out there. If youre up for some bushwacking, then this one is for you. Its well worth the effort to get out to this location.

Start on the right side of the boulder and follow the prominent seam. Continue working leftward until its possible to hit the small crimp leading up the face. Hit the second seam and continue up the slabby top to the finish.
Location
If you're not familiar with the access road (not the main trail) you might as well acquaint yourself. The best way to this boulder is to walk the access road (its the one with the gate across it....its for handicapped hunters entering the game lands!) Continue the well established road for roughly 3/4 mile. Resist the temptations to break off this road early, there are several pull offs on the left side. You're looking for a pretty well established trail that leads out of a left side pullout roughly 3/4 mile in.

From that barely there trail, head west into the thicket and try your best to follow a scarce path (this is typical Haycock bushwacking....its all part of the process!) Keep going until you come upon the talus fields....look for the tallest block, and you've found this gem.

Its either that, or you just download Char's guidebook through the app and give yourself some nice GPS coordinates. Your call :)
Protection
1-2 pads (this has one of the flattest landings in Haycock!)
Photos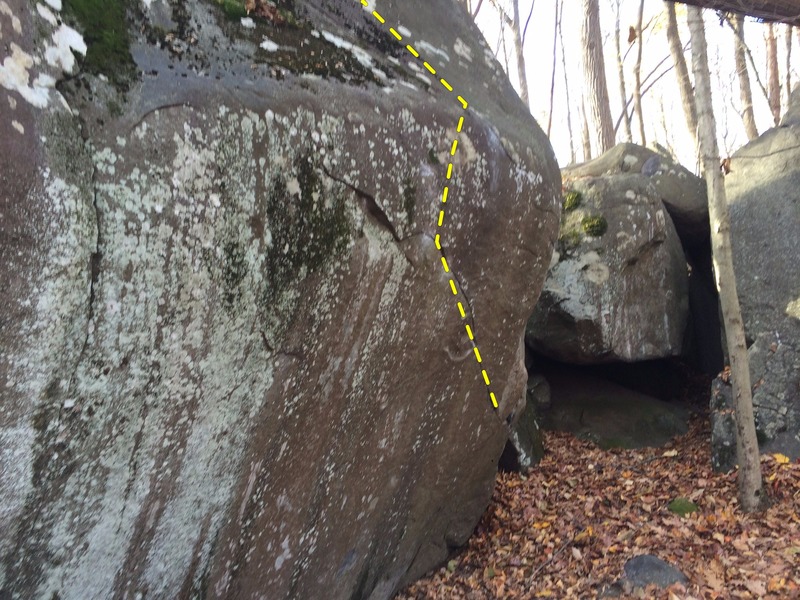 Proximity Infatuation