Black Hole Sun
5.11a, Sport, 79 ft (24 m),
Avg: 3.3 from 12 votes
FA: unknown
International > Asia > Thailand > Northwest - Aro… > Crazy Horse *TE… > Furnace
Access Issue:
Crazy Horse Closed to Climbing
Details
Description
Great route to push into the 5.11 grade. Pull hard through the low crux and you will be rewarded with a nice big jug. Climbing is easier but fairly sustained until the finish.
Location
Second route from the right.

From left to right the routes are:
1) Easy Bake Oven/Sideshow (5.8/5.9)
2) Backburner (10b)
3) Balance of Power (12a)
4) Incinerator (11d)
5) Solarise (10b)
6) Free the Mind (9+)
7) Black Hole Sun (11a)
8) Love Me, Love My Route (10b)
A cave back behind and left of the cliff contains one additional route called
8) Every Man Is an Island (10c)
Protection
15 bolts w/ fixed anchor.
Photos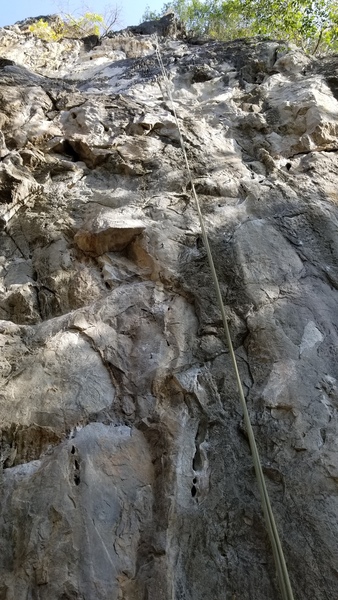 The route