White Slabs
5.7 PG13, Trad, 430 ft (130 m), 3 pitches, Grade II,
Avg: 1 from 2 votes
FA: FA: Don Gordon, John Rupley, 1958 FFA: Fred Beckey, Charles Bell, 1961
Washington > Central-E Casca… > Leavenworth > Icicle Creek > Snow Creek Area > Snow Creek Wall
Access Issue:
Seasonal Raptor Closures
Details
Each year, the USFS monitors for raptor nesting.

A pair of golden eagles regularly nest on Bridge Creek Wall. When in effect, starting January 1, PLEASE DO NOT CLIMB or travel within 1/2 mile of Bridge Creek Wall. As a reference, the climb Condorphamine Addiction is just outside of this 1/2 mile buffer, and is OK to climb still. The closure extends through August 15, but there is active monitoring to determine if the seasonal closure can be lifted earlier.

In 2014, there was an active pair of peregrine falcons at Snow Creek Wall, but no official closure was put in effect due to the location of the falcons. The site will be continually monitored with changes or removal of closures updated as necessary.
Description
Kramar's guide calls this a "polished looking route." I would clarify that in many places, it doesn't just look polished, it is polished. Which is somewhat unexpected, given that it doesn't seem to get a lot of use.

P1 (160') Start up the blocky, dirty corner and follow it past the first tree with rap slings about 50' up. (Optional belay). Continue up past a couple of slippery but easy moves to a second tree, and belay.

P2 (140') Angle up and left on easier ground with poor protection to gain a left facing corner. Climb the corner past progressively trickier moves to gain a large sloping ledge, and set a belay below a short vertical wall split by a crack.

P3 (120') Climb the vertical wall and continue up a brushy corner system, passing a large horn. A short distance above, move up and right over a tricky bulge, then up an easy groove before exiting right onto the Country Club Ramp.
Location
The route starts to the right of the white-streaked slab, which is itself to the right of the start of Outer Space. Look for a crooked tree, which may have rap slings, about 50 feet off the deck. The climb starts directly below this.

The route ends on the Country Club Ramp. Kramar's guidebook implies that you can link this up to Umbrella Tree (5.7) to top out. However we were unable to locate Umbrella Tree and chose to rap the route instead of topping out. It took 6 raps to the ground with a 60 m rope. You might do it in fewer raps with two ropes, but the risk of getting a rope caught would be significant.
Protection
There are some slings on the route, at the rap stations, but you should plan on bringing gear for anchors. We took a triple rack of cams from 0.75-3", plus a set of nuts, and a single set of smaller cams. This was probably overkill, but did make life easy with the long pitches and gear anchors. The route appears to see little traffic and you may want to bring some extra tat for reinforcing rap stations.
Photos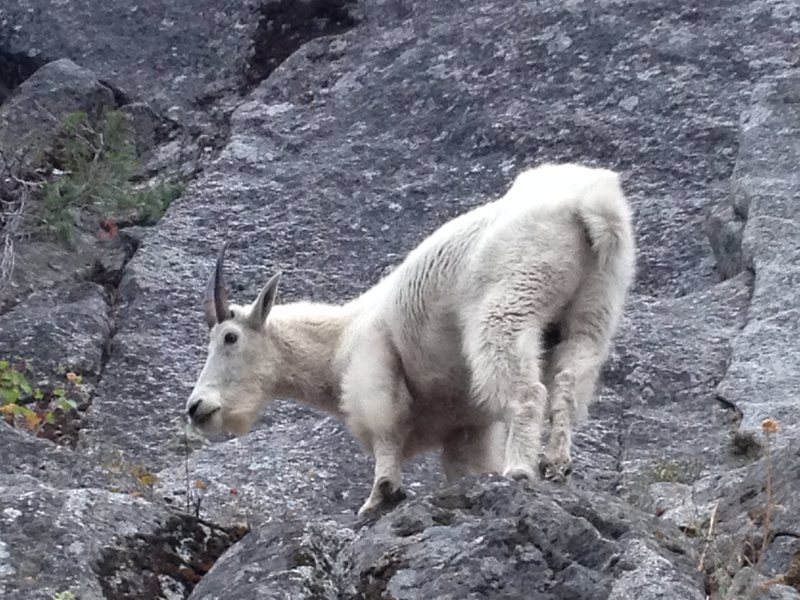 Look for the goats to find the base of the route.