Jaws II
5.10b, Trad, 435 ft (132 m), 3 pitches, Grade III,
Avg: 3 from 1 vote
FA: Wendell Broussard, Richard Harrison
Nevada > Southern Nevada > Red Rock > 11-Juniper Canyon > Rose Tower
Access Issue:
Red Rock RAIN AND WET ROCK: The sandstone is fragile and is very easily damaged when wet.
Details
Holds rip off and climbs have been and will continue to be permanently damaged due to climbers not respecting this phenomenon. After a heavy storm, the rock will remain wet, sometimes for several days. PLEASE DO NOT CLIMB IN RED ROCKS during or after rain. A good rule of thumb is that if the ground near your climb is at all damp (and not powdery dry sand), then do not climb. There are many alternatives (limestone, granite, basalt, and plastic) nearby.

HUMAN WASTE Human waste is one of the major issues plaguing Red Rocks. The Las Vegas Climbers Liaison Council and the AAC provides free "wag bags" in several locations (Black Velvet, First Pullout, Kraft Mtn/Bouldering, The Gallery, and The Black Corridor). These bags are designed so that you can pack your waste out - consider bringing one to be part of your kit (just like your rope and shoes and lunch) no matter where you go. Once used, please dispose of them properly (do not throw them in the toilets at the parking area).

Description
Jaws II follows a large left facing corner up good rock that will eventually eat you and spit you out. You can expect some wideness and run-out chimney climbing on Pitch 2, which in whole is the main attraction.

Get geared up on the ground then scramble up to a large bush in the corner system, belay here.

Pitch 1 - 5.6 50' - Start off a bush and follow easier corner climbing to a short vertical wide pod. After this follow the slab corner to the base of the massive chimney. Belay off a chock stone.

Pitch 2 - The Jaws - 5.10b 180' - Quest up the chimney chasm, generally keeping a little deeper inside until you can place gear after about 30'. It's a bit sandy in there. Start moving up and diagonally left until the chimney shuts and you must exit back out. Pull the lip and continue up the finger, off fingers, and handish crack corner. This eventually opens back up to a chimney again and you can squeeze up a good ways exiting in an alcove.

Pitch 3 - 5.6 205' - Face climb up good rock generally aiming for a left facing corner with a bush. Climb the corner until you top out the feature and then traverse right on a ledge to reach the shared summit with Olive Oil.

Descent - If you left your packs at the base it is best to take an alternate descent from the typical Olive Oil descent. From the summit, head west and drop down a bit until you reach a cairn. Now head left (South) and head down onto a slab. Traverse West on the slab and stay high when a chimney gap is reached that you could jump but probably shouldn't. Drop into some bushes near the top of the gap and walk down it until it is easy to step onto the other (right hand) side of the slab. Continue traversing West on this slab for a while until the gully starts to become visible on the left. Go a little further aiming for two trees in the gully near the base of the slab. Here you hike down into the jungly gully back to the base of the route.

Or if you have all your stuff, take the standard Olive Oil descent gully.
Location
The large left-facing corner just uphill from One-Armed Bandit.
Protection
Single rack to #5 Camalot, double .75-#4, (Optional #6, Big Bros) or equivalent.
Photos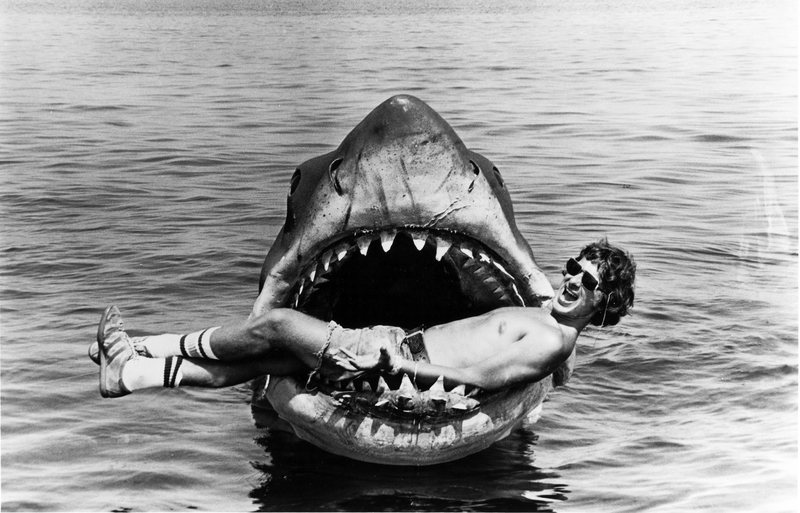 This could be you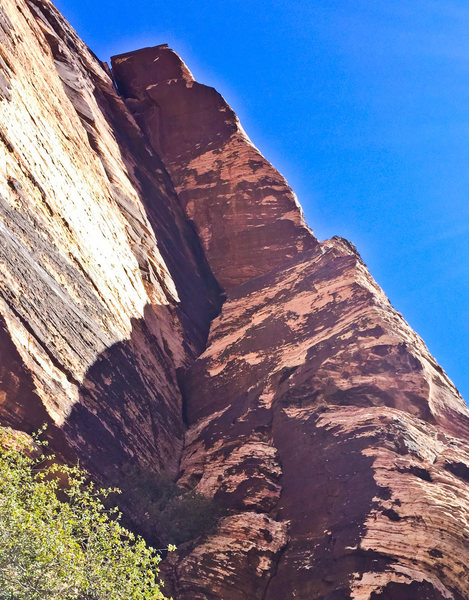 Jaws II