El Patron
5.8, Trad, 90 ft (27 m),
Avg: 2.7 from 3 votes
FA: A. Collins, M. Rangel
Arizona > Central Arizona > Christopher Cre… > Exit Gorge
Access Issue:
Park on pullout and do not enter gate, if open.
Details
Park on the pullout on south side of Hwy 260, about 18 miles east of Payson, near milepost 270.8. Do not enter gate, if open.
Description
A line that begins wide and narrows to a seam at the summit. The is just left of the rappel and the wide 5.9. Approach base of chimney and squirm around the big flake to easier climbing above. You can easily pass the overhung stuff above on big face holds.
Location
About 30' right of Frogleg Squimney is a continuous crack starts out as a chimney and tapers to a seam.
Protection
standard rack to #4 camalot, bolt anchor/no chains. Walk west to mussy hooks about 30 feet.
Photos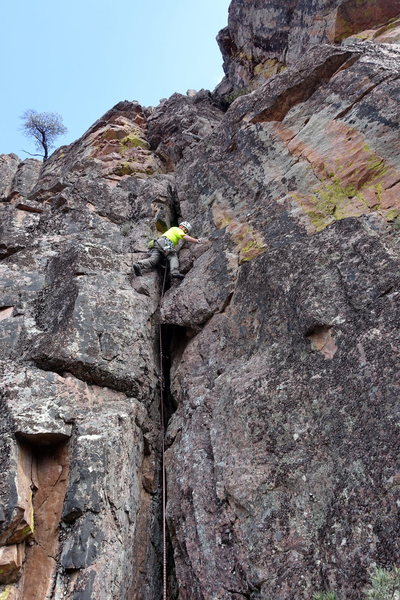 Aaron on the FA