Northwest Ridge
4th, Trad, Alpine, 800 ft (242 m), Grade II,
Avg: 3.6 from 15 votes
FA: Jack Riegelhuth - 1933
California > High Sierra > 08 - Bishop Pas… > Mt Haeckel
Description
A steep and exposed scramble on good rock with a Class 4 section at the start of the route, before leveling off near the summit, after which it's superb and exposed Class 3 along a ridgeline.

Has a reputation for being a classic route, with good exposure and rock to a very small summit.
Location
Approach from camp at Hungry Packer Lake, follow the broad ridge north of the lake, first through small trees then rock steps and boulders, and Alpine terrain to a prominent notch on the high col north of the peak, at about 12,700 feet. The route is the broken ridge right of the shallow gully which runs almost to the summit. Near the start of the climb the approach snow can be fairly steep ice in late season of a good snow year.

I did not go the the notch but started the route lower down where the shallow gully met the snow - seemed like an easier start and cut short the slogging.

Without the snow it's a monstrous talus slog - so early season is recommended.

Descent is by way of the South/East slope at Class 3 into the basin south east of the peak, stay high so as to pass over the low point of the long broad East Ridge and back to your approach route.
Protection
Non required - heady solo. Or small diameter rope and a few nuts/slings. Crampons and Ice Axe seasonal.
Photos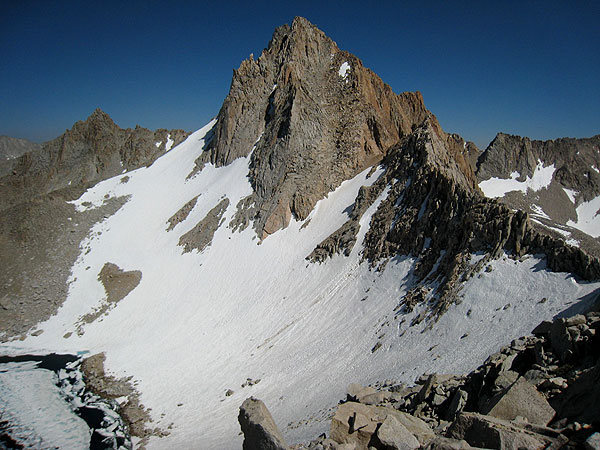 Looking over to Haeckel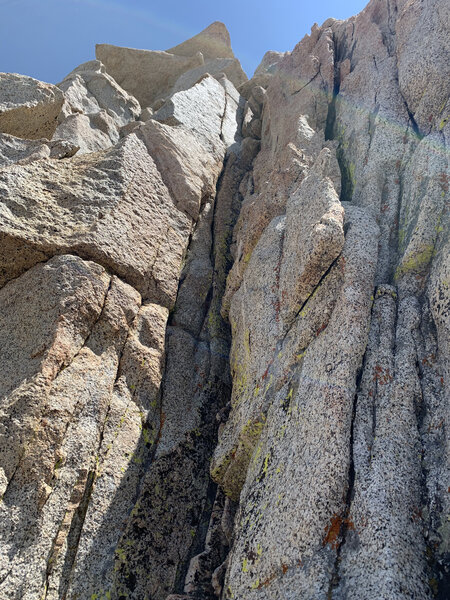 Rock on the upper ridge, solid.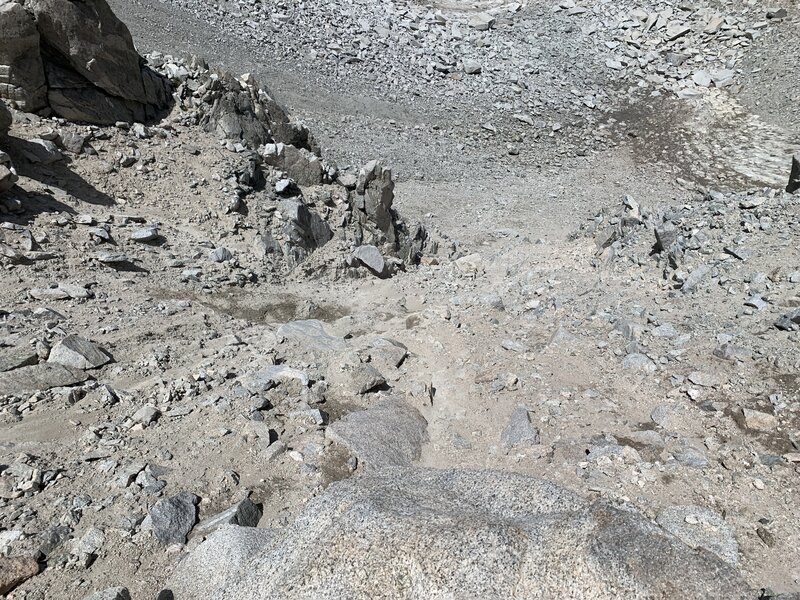 Looking down from the top of the gully from the low point on the east ridge. This is where you head down to meet with your approach route (from what I understand). The gully was loose but is short…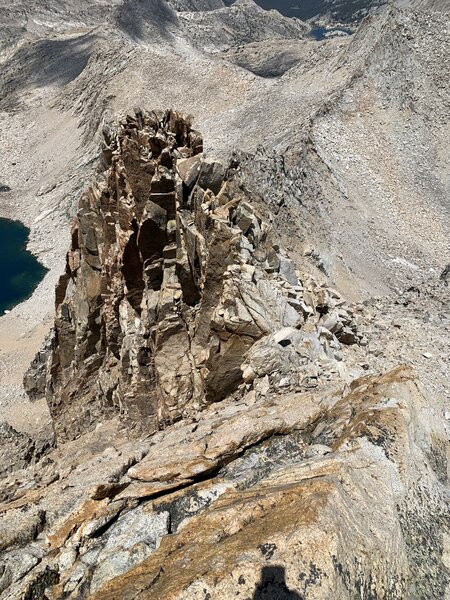 Looking down from a little below where the ridge takes a left turn toward the summit - just above the second mini notch in the ridge crest.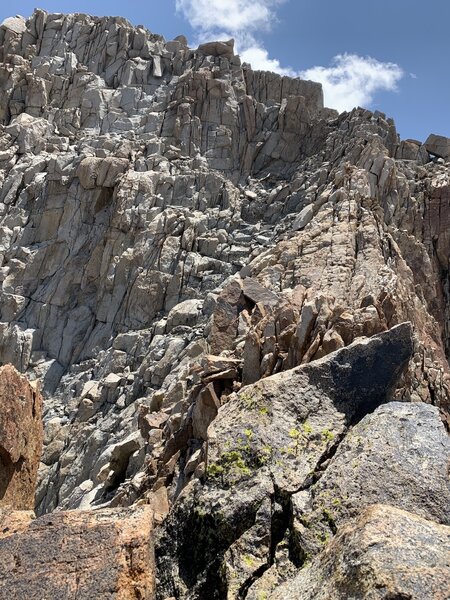 About halfway up the ridge.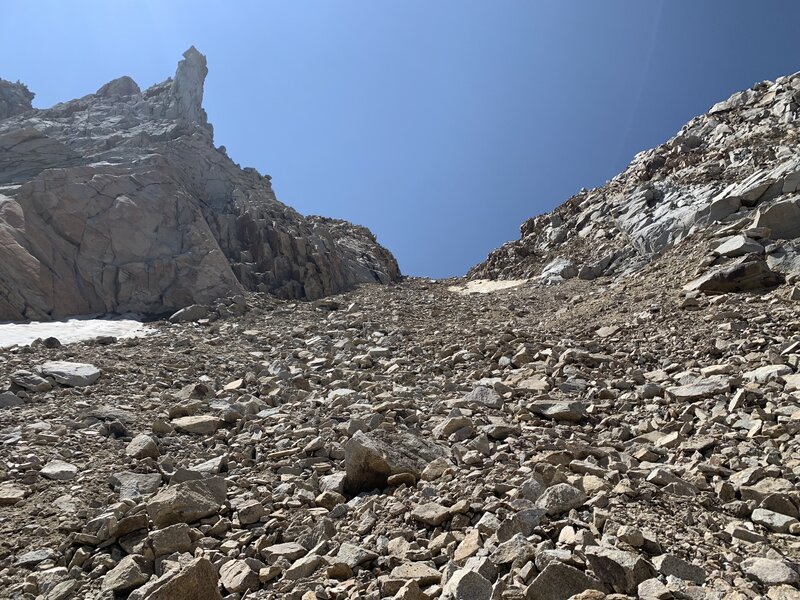 Approach to start of climb - unpleasant.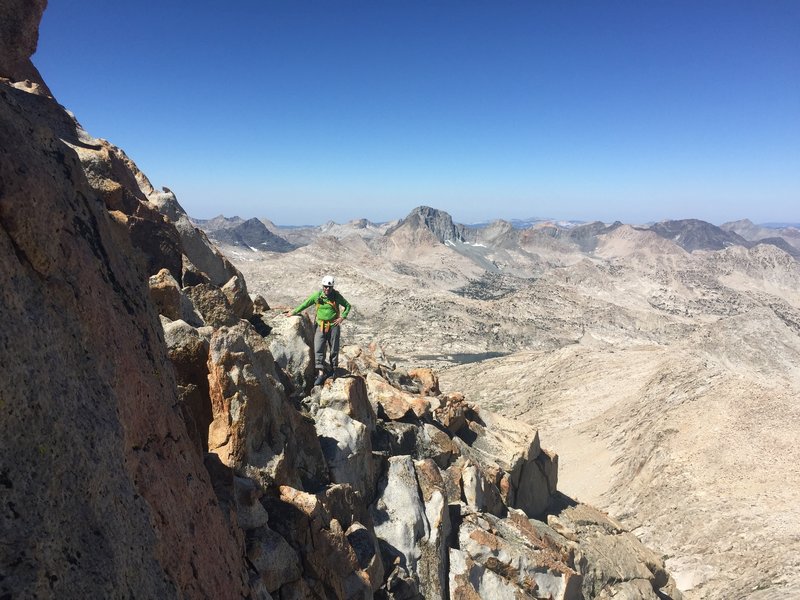 High on the route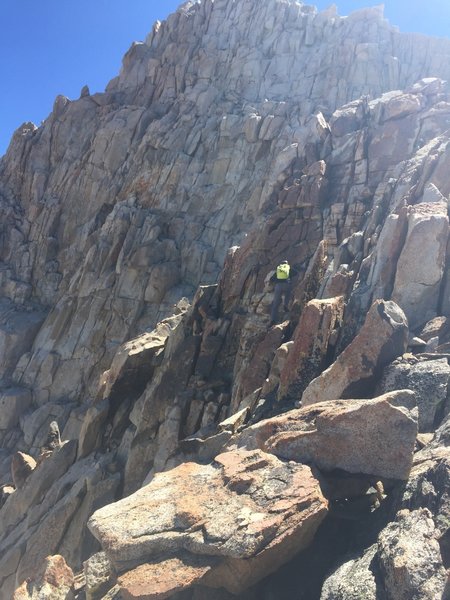 Getting onto the ridge