Bolt Hunter
5.11a, Sport, 400 ft (121 m), 5 pitches, Grade II,
Avg: 2.8 from 4 votes
FA: Hunter Winegarner and Bob Robertson
Colorado > S Platte > Goose Creek/Mol… > Weathering Heights Dome
Description
This 5 pitch route is on the southwest side of the rock just on the other side of the crack that you can see from the road.

Pitch 1, 5.9-, 4 bolts & anchor. Follow crack system to the top of the pillar. The first bolt is a little high, but solid easy crack climbing leads to it.

Pitch 2, 5.11a-, 5 bolts & anchor. This is the crux pitch and offers a little bit of everything. Start by stepping off the pillar on to the main face of the cliff, and work up to the base of the overhang. There are 2 parallel cracks to help with pulling the roof. Don't underestimate the face climb above the roof. You can skip the first set of anchors and do pitch 3 using standard 60m rope to save a belay stop.

Pitch 3, 4th class, one bolt & anchor. It angles slightly up and right.

Pitch 4, 5.10b, 7 bolts & anchor. This has fantastic granite slab climbing requiring some delicate feet.

Pitch 5, 5.10d, 7 bolts & the top has no anchor. It starts slabby but gets vertical with just enough of a crack to make it go.

You will need to walk off the top to the northeast & uphill. FA: 7-6-15, Hunter Winegarner & Bob Robertson.
Location
It is on the Southwest face. The first bolt is about 12 feet up. Looking up from the start, you can see the overhang crux of pitch 2 with two cracks in it.

Hike in from the cairned on side of the road. No trail has been established yet; however, several cairns have been placed through the easiest approach. It takes about a 30-45 minute approach, down the valley, under the power lines, and to the base of the rock.

The elevation is 8700 feet, & GPS at the parking area is 39-06.183N, 105-21.674W. The GPS near the start is: 39-05.909N/105-21.084W. The GPS at top: 39-05.911N/105-21.072W.
Protection
Quickdraws, everything is well-protected with great bolt placement.
Photos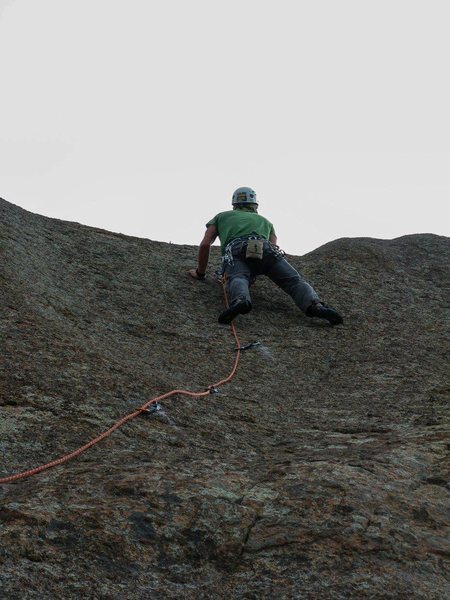 Pitch 4.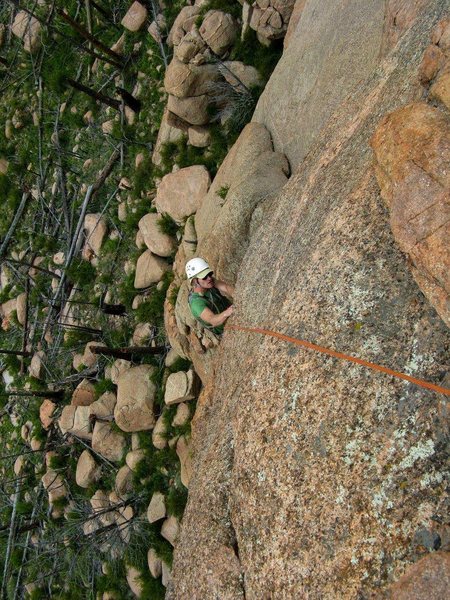 Climbing it.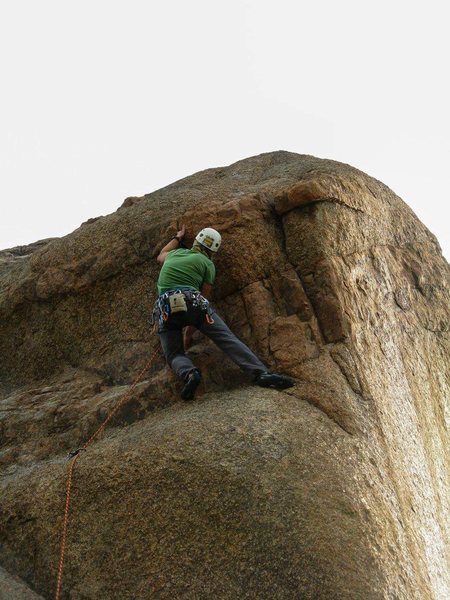 Pulling the crux on the first ascent.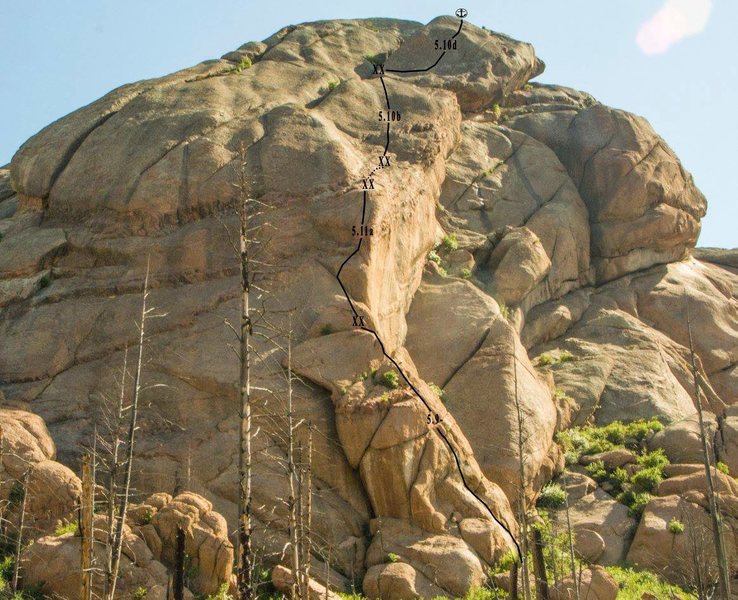 Bolt Hunter topo.