The Phoenix
5.13+ PG13, Trad, 120 ft (36 m),
Avg: 4 from 2 votes
FA: FTR Kevin Bein 6/30/87 FFA Chris Hirsch 5/5/2014
S Dakota > Custer SP > Sylvan Lake > Outlets > Stonehenge
Description
Piana once called this line more beautiful than the Salathe Headwall! It certainly has caught many climbers' attention. Kevin Bein top roped the line in '87 calling it 'So You Wanna Layback?'. Since then few others have attempted on TR and it was more commonly called 'The Phoenix'.

Begin on a hollow, right-facing flake. As the flake dies out, transition right up thin face to a large jug rail at the base of overhang. Clip bolt and run it out through the first hard section before the seam allows gear. Continue the sustained liebacking to a decent rest at mid-height. The crux above is desperate and sparsely protected. A .5/.75 or red/black Metolius offset cam is comforting. Switch between right and left liebacking a couple times through the pumpy, S-ing finish.

Due to the nature of the rock (not the cleanest in the park), and therefore questionable gear, difficulty, and cowardice, I resorted to Headpoint style. Though the one and only bolt was placed on lead. Hopefully future ascents will better this style.
Location
This is the seam on the overhanging, streaked, SE wall. First seen when coming through the tunnel from the lake. Single 70m rope rap.
Protection
Single rack; red C3-#2, doubles of .4 and .5, nuts
1 bolt
2 bolt anchor with chain
Photos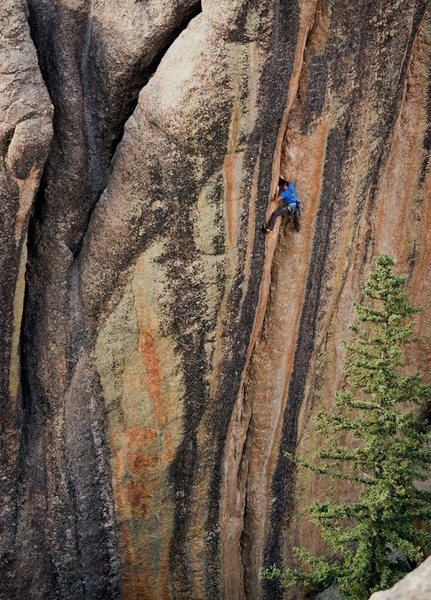 Taken by Luke Ross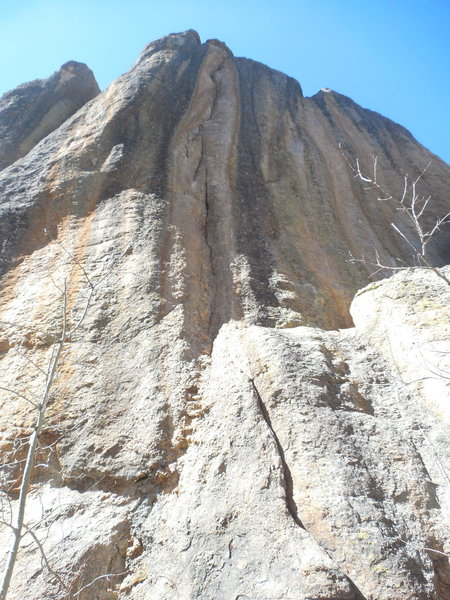 The Phoenix follows the obvious crack up the yellow streaked wall. Photo taken at the base of route on the small bridge that runs South to North when you come through the dam tunnel.