Jah lives
5.12a/b, Sport,
Avg: 3.6 from 11 votes
FA: Sébastien Richer, 2008
International > N America > Canada > Quebec > 15. Laurentians > Baldy > E Mur Principal (Adén…
Access Issue:
This cliff is insured by the FQME
Details
This cliff is under the liability insurance of the Fédération Québécoise de la Montagne et de l'Escalade (FQME).

Residents of Canada need to have:
-FQME 'Accès Montagne' membership (55$)
-For members of the Alpine Club of Canada an FQME 'Accès Montagne' upgrade (30$)
Or purchasing a 10$ day pass online.

This money is used to pay the liability insurance for landowners regardless if they are private citizens, municipal or provincial.
The maintenance of cliffs and their access, replacing of fixed protection.
Description
Start on the right of the flake, even though most climbers start from the top of the slab, the first section needs a lot of strength and/or impecable technique. Very nice!

====

Départ à droite du flake, bien que la plupart des grimpeurs vont partir d'en haut de la dalle. La première section nécessite beaucoup de force, ou une
technique impeccable. Très jolie!
Protection
10 bolts anchor.

10 plaquettes + relais.
Photos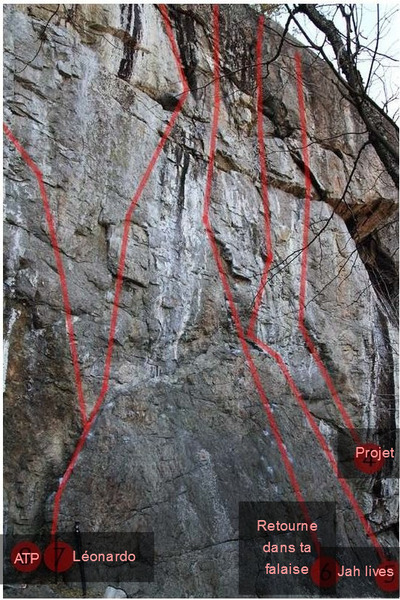 Baldy