Metelkova
Avg: 0 from 0 votes
| | |
| --- | --- |
| Type: | Sport |
| FA: | J. Bourassa-Moreau, 2014 |
| Page Views: | 386 total · 6/month |
| Shared By: | Luc-514 on Jun 12, 2015 · Updates |
| Admins: | Luc-514 |
Your Difficulty Rating:
-none-
Change
Access Issue:
This cliff is insured by the FQME
Details
This cliff is under the liability insurance of the Fédération Québécoise de la Montagne et de l'Escalade (FQME).

Residents of Canada need to have:
-FQME 'Accès Montagne' membership (55$)
-For members of the Alpine Club of Canada an FQME 'Accès Montagne' upgrade (30$)
Or purchasing a 10$ day pass online.

This money is used to pay the liability insurance for landowners regardless if they are private citizens, municipal or provincial.
The maintenance of cliffs and their access, replacing of fixed protection.
Description
Start on the right of the flake between Broutte Minou and Jah Lives.
Bolted in 2007 by Jean-Do Saudan, re-bolted following some broken holds by Jean-Pierre Ouellet, linked up in fall 2014 by JBM.

====

Départ sur la droite du flake-dalle entre Broutte Minou et Jah Lives.
Équipé en 2007 par Jean-Do Saudan, Rééquipé par Jean-Pierre Ouellet après quelques prises en moins, enchainé à l'automne 2014 par JBM.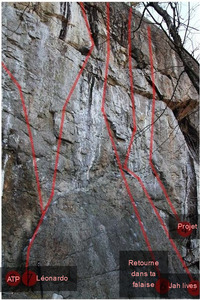 Baldy
1