6. Sangria
Avg: 2.7 from 3 votes
Your Difficulty Rating:
-none-
Change
Access Issue:
Covid Guidelines
Details
SNECC is encouraging all climbers to use caution and good judgement regarding the spread of Coronavirus. Please reference the guidelines provided by local government, land managers and LCOs and ensure that you have contingency plans if you are unable to maintain social distancing at the area you planned to climb at. For further information, please check the pandemic site below:
gunksclimbers.org/gunks-new…
Description
Sit start with your left hand on a higher good flake and your right hand lower down on a different flake. Move your right hand to a thin, gaston crimp, and bump your left hand up the flake. Get your feet up, and move your right hand to the sidepull pinch/crimp and your left hand to a small crimp. Get your feet up again, surge for the lip, and top out. This problem does not use detached rock for your feet.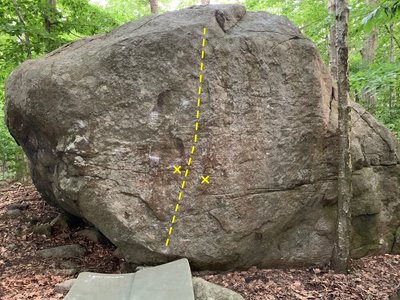 Sangria.
0