Eagle's Nest
Avg: 2.8 from 17 votes
| | |
| --- | --- |
| Type: | Trad, 100 ft (30 m), 2 pitches |
| FA: | Old School |
| Page Views: | 1,549 total · 22/month |
| Shared By: | Brent Barghahn on Apr 14, 2015 |
| Admins: | Kris Gorny, K Ice |
Your Difficulty Rating:
-none-
Change
Access Issue:
Climbing permits are required for all group and individual climbers at Interstate State Park. Permits are free, and must be renewed each year.
Details
Individual Rock Climbing Permits
(free):
Individual permits are available year-round at the park office. Weekends in May and daily Memorial Day through mid-October, permits are also available at the visitor center. Individual climbing permits are also available at the self pay kiosk near the visitor center.
Commercial Rock Climbing Permits
(free):
Organized groups are required to obtain a new commercial climbing permit each year. This requires submitting a certificate of insurance with required liability limits and naming the State Of Minnesota as an additional insured party. Application forms are available by calling the park office at 651-539-4500. Requests for new commercial climbing permits should be submitted at least seven days prior to the climbing event to allow time to process the permit request.
dnr.state.mn.us/state_parks…
Description
Route starts left of a tree at the slab roughly 50 feet downstream from Devil's Chair. Start up the continuous right leaning crack. Pull a bulge then continue to top out the slab to a 6 foot ledge. Step left and build an anchor. From the anchor, lead straight up the clean face into the dihedral and under a dead tree. At the end of the dihedral, step right, then go up the steep headwall with great hand cracks. Walk left and back from the cliff to build an anchor. Be sure to give a proper "Ka-Kaw!" at the summit of Eagle's Nest.

Hike up to the road, and descend the gully next to Devils Chair to get back to the base.

The two pitches can easily be linked, but forces good rope drag management practice. This climb is an awesome beginner multipitch lead with great jams for the grade.

I am sure this route has a different name, but it seems to be lost from any guidebooks. Please comment with any details!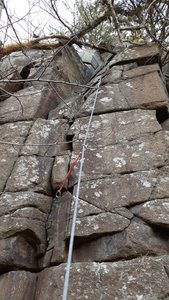 Pitch 2
0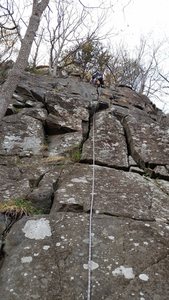 Pitch 1
0