Kaum Zeit zum Atmen
5.13+, Sport, 40 ft (12 m),
Avg: 2 from 1 vote
FA: Wolfgang Gullich, 1984
International > Europe > Germany > Frankenjura > Burggrub > Luisenwand
Description
Within a week of his return from Australia (where he established the world's first 5.14, Punks in the Gym), Wolfgang Gullich strung together this slightly overhanging moss streak of thin pockets and sharp crimps to give the Northern Frankenjura its first route in the tenth grade. At the time it was "only" X-, but since then at least one snapped hold and years of traffic have raised the grade to solid X. The name (which means "Barely Time to Breathe"), is an homage to Gullich's early role-model and German mountaineering legend Reinhard Karl, author of the book Zeit zum Atmen. Karl was the first German to summit Everest, but was tragically killed in an avalanche on Cho Oyu in 1982. He made a big impression on Gullich, inspiring him to pursue the burgeoning sport of free climbing, and the bohemian lifestyle that took Gullich to crags around the world.

The route amounts to an eight-or-so move boulder problem of impressively long cranks between depressingly thin holds. Truly, moves of such difficulty are rarely encountered in the 5.13 range. Bring strong fingers, thick skin, tight-fitting shoes, and plently of lock-off strength. Above the crux the route thrutches up a mossy crack, with a long runout to the anchor.
Location
On the far right end of Luisenwand, the 2nd bolted route from the right.
Protection
4 bolts to an anchor. Maybe a wide cam for the top?
Photos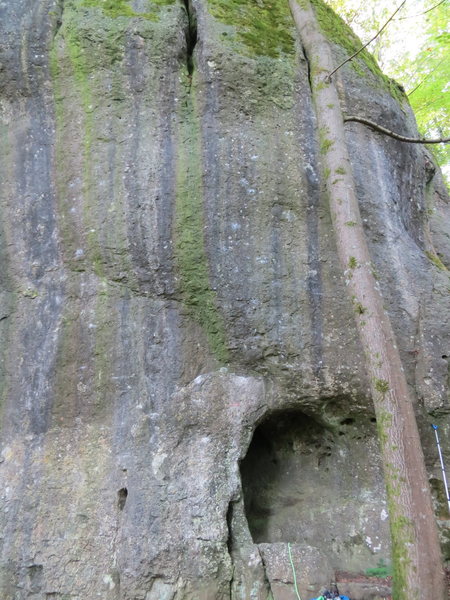 KZzA climbs the line of tiny pockets directly above the left side of the small cave (and just right of the green slime oozing out of the wide crack in the top of the photo).