Buch-Goin
5.9+, Trad, 430 ft (130 m), 4 pitches, Grade III,
Avg: 3.6 from 9 votes
FA: Esteban Buch & José Luis Goin, 1981
International > S America > Argentina > Rio Negro > San Carlos de B… > Frey > Campanile Esloveno
Description
Begin 5m below the base of a steep dihedral leading to a distinct roof (9+ crux). Traverse right under the roof, then continue up to the first belay. Follow a series of diverging cracks, trending left, before traversing left to avoid another roof and reaching a loose platform (p2 belay). Continue by circling left and making way to false summit block (p3 belay), then make exposed moves around either side of the false summit, continue exposed traverse before final moves to la cumbre.
Location
East face of Aguja Campanile Esloveno, most obvious and left-most dihedral leading to the shoulder at 2/3 height of the tower. Start requires harder moves off of bergschrund in spring conditions, or an alternate, easy, but unprotected traverse start from the left. Rappel the route using 1 70 m rope, requires 1 5th class downclimb move to reach start.
Protection
Trad (doubles in cams to 3, stoppers). P1 belay has bolts, P2 has intermediate pitons useful for rappel. Summit block has 3 bolts (1 spinner, 17 Dec. 2014).
Photos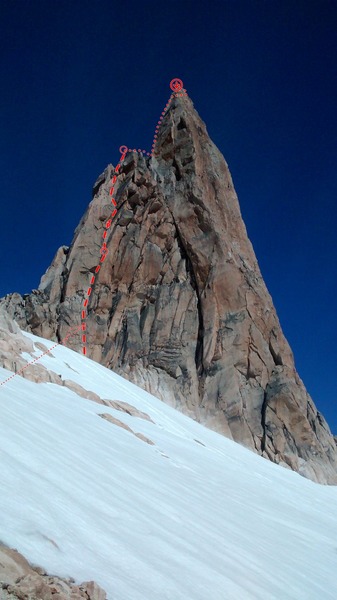 Buch-Goin is located in the left-most dihedral, just right of the skyline, and traverses under the obvious triangular roof on the first pitch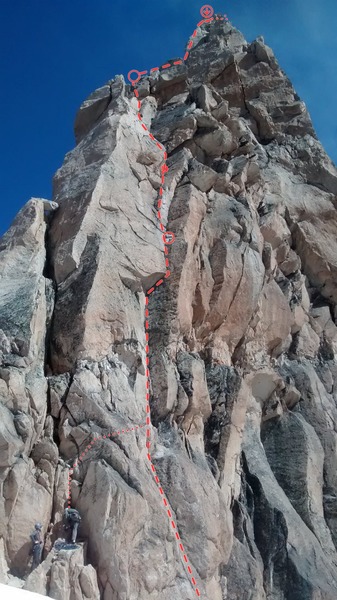 At the base of Buch-Goin, below the alternate start to avoid stepping directly over the bergschrund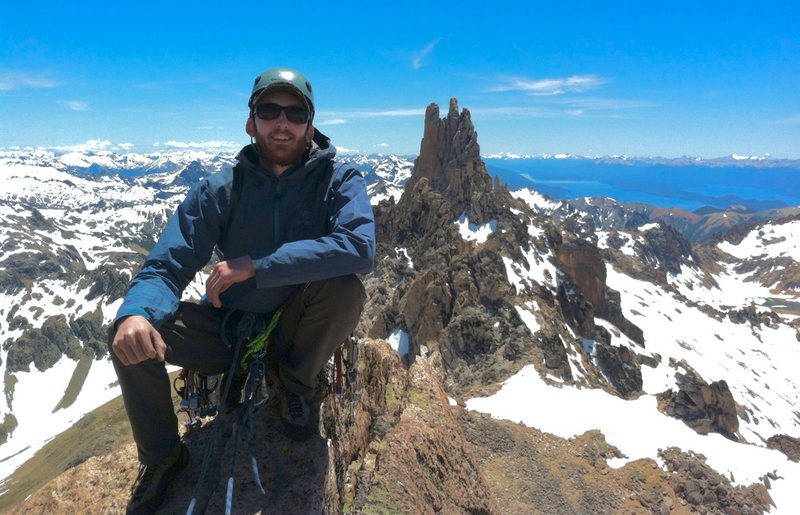 Summit of Aguja Campanile