Brainiac
5.12a, Sport, 80 ft (24 m),
Avg: 2.5 from 4 votes
FA: Brian Shelton, Stewart Green, Dennis Jump. May 15, 2010.
Utah > Southeast Utah > Arches NP > Sunshine Wall > Sunshine Wall Routes
Access Issue:
Seasonal Raptor Closures
Details
Access Issue:
RAIN, WET ROCK and RAPTOR CLOSURES: The sandstone around Moab is fragile and is very easily damaged when it is wet. Also please ask and be aware of Raptor Closures in areas such as CAT WALL and RESERVOIR WALL in Indian Creek
Details
WET ROCK: Holds rip off and climbs have been and will continue to be permanently damaged due to climbers not respecting this phenomenon. After a heavy storm the rock will remain wet, sometimes for several days. PLEASE DO NOT CLIMB IN MOAB during or after rain.
Indian Creek 2019 info: or the
link
blm.gov/press-release/annou…
.
RAPTOR CLOSURES: please be aware of seasonal raptor closures at the Cat Wall and Reservoir Wall. They occur annually from March 31st until August 31st. *Due to the federal hiring freeze in agencies such as the BLM of Monticello, no official closure for 2017 has been issued and the laws which have been put in place in previous years are not being enforced. Please, for the sake of fragile desert ecology, DO NOT CLIMB at stated walls. These raptors return to the same nesting sites every year to raise their nestlings.
Description
More slab climbing! Do some easy slabbin' to the first bolt and do a tricky mantel to reach the second. The crux comes just past this with a very thin move with terrible feet to reach some small edges. A taller climber might have a significantly easier time on this section that someone of average height. Beyond the third bolt the climbing eases up, continuing at 5.10 past seven more bolts. Anchors are two bolts currently equipped with a quicklink and a carabiner.
Location
Brainiac is the right-most route of the Sunshine Wall slabs, roughly 100 m climbers right of the Science Friction Slab. Just right of Walking on Sunshine.
Protection
Ten draws
Photos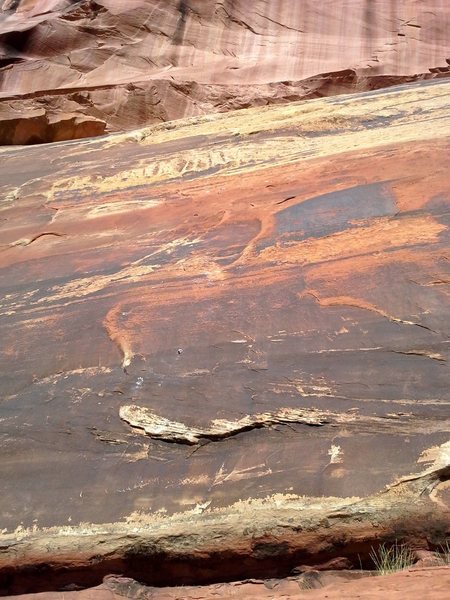 Brainiac