Death Dealer
5.12c, Trad, 105 ft (32 m),
Avg: 3.9 from 7 votes
FA: J. Unema, B. McCord
Arizona > Northern Arizona > Sycamore Canyon > Volunteer Canyo… > S Side > 2. E End Wall
Description
Death Dealer is a classic and varied basalt pitch. It begins with a powerful layback, moves into technical climbing on unique holds around a thin seam, and finishes on a one-of-a-kind boulder problem on crisp basalt edges.
Protection
The first free ascent was done on all gear, however several of the key pieces protecting the difficult climbing are small, hard to place, and not really very good. The FA party decided to add 3 bolts to protect the climb.
Bring quickdraws for the bolts, a single set of cams from C4 #.4 to #3, a full set of nuts from small to big (offsets useful), one each 000 and 00 C3 and a double set of cams from 0 c3 to #.3 C4.
Location
Death Dealer follows the thin seam about 20 feet left of Rapture. It begins beneath the Rapture pillar in a steep corner. Belay on the ground. At 60 feet or so, the line splits, with Death Dealer continuing up the left seam, and Ultraviolet Ammunition traversing right to gain the right seam.
Photos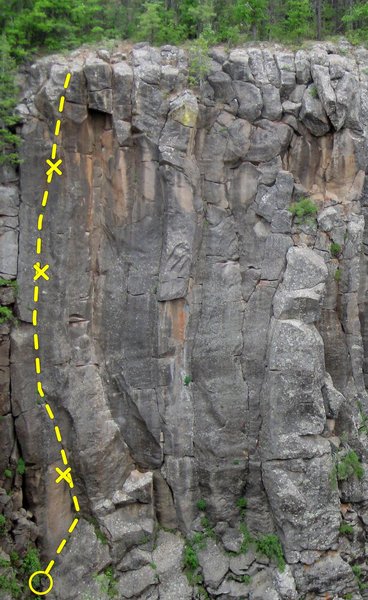 Death Dealer