Your Substrate Makes My Lava Flow
Avg: 3.3 from 10 votes
| | |
| --- | --- |
| Type: | Sport, Alpine, 50 ft (15 m) |
| FA: | Roy Suggett, Ryan Brenteson, and Phyllis Suggett |
| Page Views: | 1,028 total · 14/month |
| Shared By: | Roy Suggett on Jul 28, 2014 |
| Admins: | Andrew Gram, Nathan Fisher, Perin Blanchard, GRK, DCrane |
Your Difficulty Rating:
-none-
Change
Description
Start on the arete and clip the bolt on the face to the left. Follow the line of bolts using face edges and occasionally the arete on the right. There are fun and thoughtful moves on the face that are well protected.
Location
Follow the trail past the "Stargate Tower" and past a small detached pillar composed of a black version of the Osiris Tuff that is now being called the "Tower of Darkness." Head up a few loose steps of talus and and cut back sharply left or south into an improbable looking hole/chimney. Head into this formidable and dark place turning right and then left to reach a right facing dihedral containing the off width. The bolted face in front of you is your line. This line shares an anchor with the off width to left.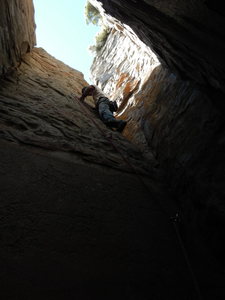 .
0