Voyager
5.11c, Trad, 700 ft (212 m), 7 pitches,
Avg: 3.7 from 135 votes
FA: Dan McDevitt & Ryan Kelly. October 2013.
California > Yosemite NP > Yosemite Valley > Valley S Side > Leaning Tower Area > Fifi Buttress
Access Issue:
Latest updates on Covid and 2020 visits.
Details
Please visit
climbingyosemite.com/
for the latest information on visiting Yosemite in 2020.
Ongoing Issues:
Yosemite National Park climbing closures and conditions
Yosemite National Park has yearly closures for Peregrine Falcon Protection March 1- July 15.
Always check the Yosemite website Peregrine Closure page at
nps.gov/yose/planyourvisit/…
for the most current details and park alerts, and to learn more about the peregrine falcon, and how closures help it survive. This page also shares closures and warning due to current fires, smoke, etc.
Description
Voyager is a fantastic route. Established in 2013, it offers sustained climbing on surprisingly clean and solid rock. Each pitch is high-quality, featuring numerous stem corners and hand cracks. Almost all of the belays are at comfortable ledges and the route catches shade until around 1-2pm (May). Great route for a warm day in a secluded spot.

P1: Blocky bolt-protected climbing leads to a long clean stretch of fingers in a corner. Stemming and jamming segues into fun face climbing on edges and knobs. Step right to a bolted anchor below the tree. Alternatively, continue to a larger ledge and below directly below the base of the next pitch. 11a. 105'.

-----------

[Alternative Start: Begin on Running Wood (5.10 c/d, 4P) and traverse over to the ledge at the base of the Incinerator (P3 of Voyager).

The starting corner of Running Wood is hard to miss as it leads through an obvious crack system in orange granite directly right of a big roof. It's immediately left of Voyager. Awesome pitch!

Alt. P1: Stemming and reaches lead through varied cracks down low. Reach a stance and follow a perfect hand crack though overhanging bulges. A short squeeze leads to a bolted anchor on a ledge. 10 c/d. ~115'.

Alt P2: Climb up a nice crack in a left-facing corner. Traverse right past a shrubby ledge to meet the original route. Continue up a short left-facing corner to the base of P3. ]

------------

P2: Move up and past the tree to the base of a stem box. Climb the corner past a small roof. Wide stemming leads to a bolted anchor next to a large ledge. 10c. 105'.

P3: The Incinerator! Flared fingers in a left-facing corner. Lay it back or stem it out. Keep your cool or you might get...burned. Heh. Bolted anchor. 11c. 80'.

P4: Boulder Problem. Move right across a ledge to the first bolt. Nice movement leads past a couple bolts to a stance at the base of a short right-facing corner. Technical difficulties begin as the corner ends and the slab begins. Draws and a few finger-sized pieces are all you need for this pitch. Bolted anchor. 11c. 70'.

P5: Delicate opening sequence of stemming in a steep corner. Hit a jam and pull into a stretch of hands and fists. Bolted anchor. 11a. 105'.

P6: Follow the cracks up into lower angle terrain. As the crack thins and the angle eases look for a bolt on the right. Clip it and move right onto the slab. Face climbing leads past another bolt to a stance. Work your way up a fist crack in a short left-facing pillar. Bolted anchor. 10c. 105'.

P7: Starts out with a punchy crux of overhanging tight hands. Gain a stance, catch your breath, and press on through an enjoyable hand crack to a blocky section below the anchor. Watch for loose rock here. A tricky mantle guards the anchors. Bolted anchor. 11a. 105'.

Rap the route with a single 70m rope.
Location
The route is easily identified by looking for a large section of orange and white rock with several large roofs. The route begins in a corner just right of these large orange roofs. Look for a series of bolts that leads into a thin crack in a corner below a tree.

Rap the route with a single 70m rope.
Protection
Double 0.5".
Triple 0.6"-0.75".
Double 1"-3".
Single 4".

Nuts & Draws.

P1, 4 & 6 have protection bolts.

All anchors are big, shiny and rap equipped.
Photos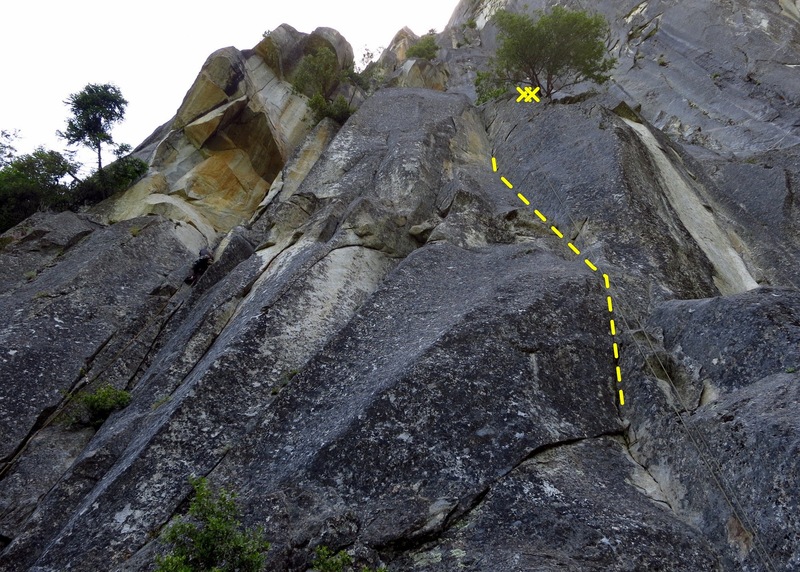 First pitch of Voyager. Photo: Corey Gargano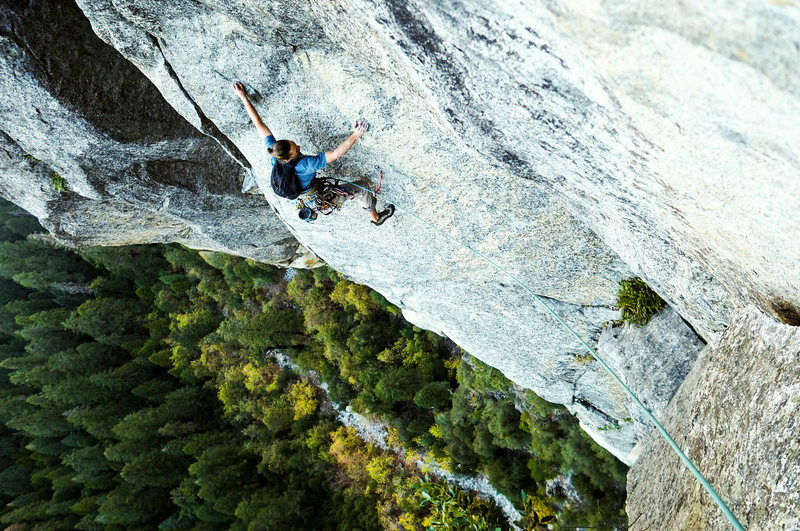 The slab traverse, so much fun.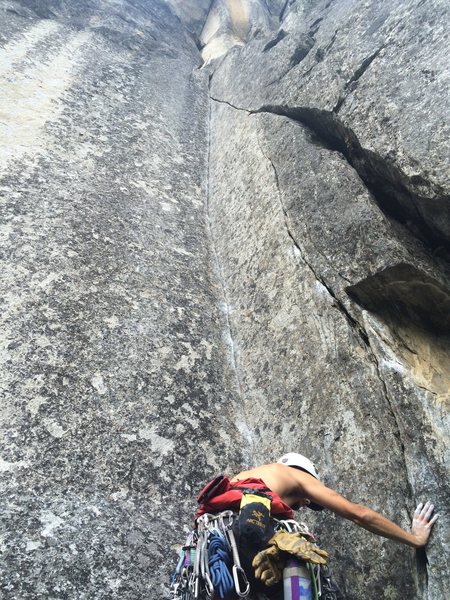 "The Incinerator" Great pitch. Offset cams not necessary at all but they would work terrifically.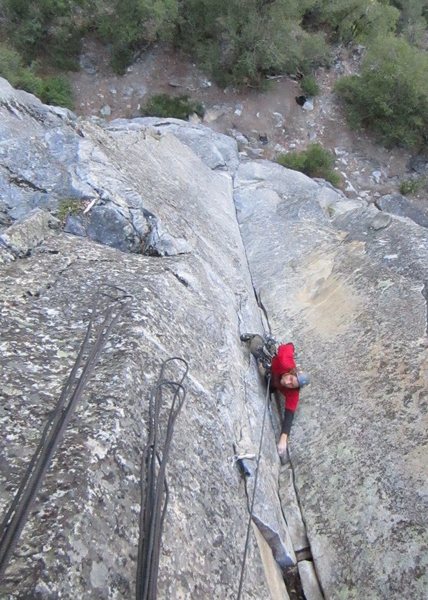 Looking down the beautiful corner on pitch one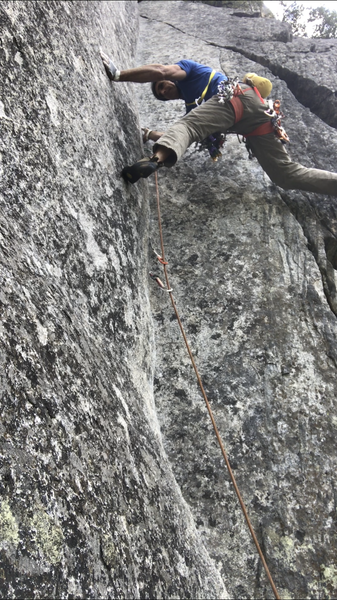 Randy Leavitt leading The Incinerator, pitch 3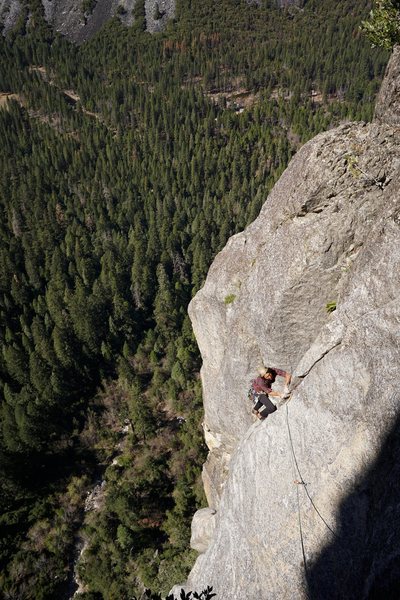 slab traverse on 2nd to last pitch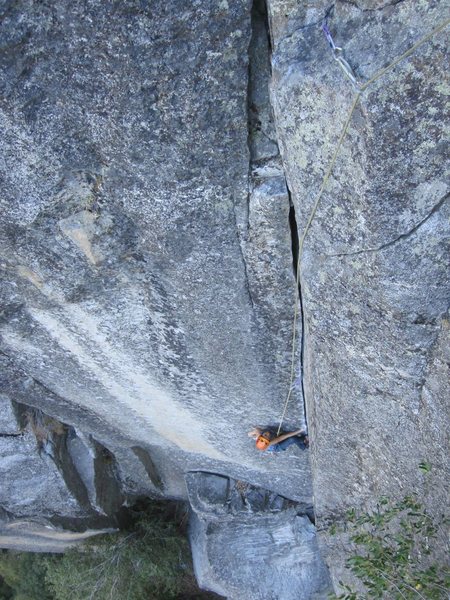 Pitch 3 enduro layback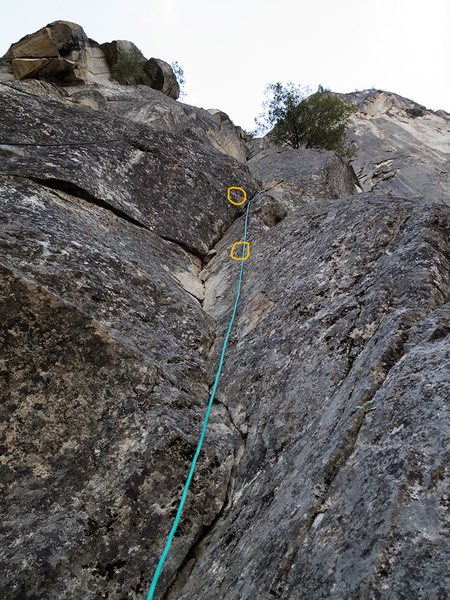 The 1st pitch from the belay. The 1st and the 2nd bolt are outlined.