Send Them to the Iron Hayden
5.10c, Trad, Alpine, 90 ft (27 m),
Avg: 2.5 from 4 votes
FA: PC Crew 2008
Utah > Northeast Utah > Uinta Mountains > Hayden Peak > Most Excellent Crag
Access Issue:
Located in a National Forest Fee Area
Details
Description
This route is on the right side of
The Most Excellent Crag
. Clip the first low bolt and then make a thin traverse to the right over a small cave and then up passing several bolts and a few cam placements. Very good and sustained climbing with a cool steep finish on neat holds.
Descent: Rappel the route.
Location
The Most Excellent Crag
. Far left side of the
Iron Hayden Wall
.
Approach
Continue along the base of the
Iron Hayden Wall
heading north until a small rocky ridge blocks the way. Descend a short distance to the west and continue traversing the base until a short, loose gully is reached. Go up this gully to the base of a clean orange wall with a small cave at its base. This is
The Most Excellent Crag
.
Protection
Gear: 7 bolts, a few cams up to a #3 camalot.
Photos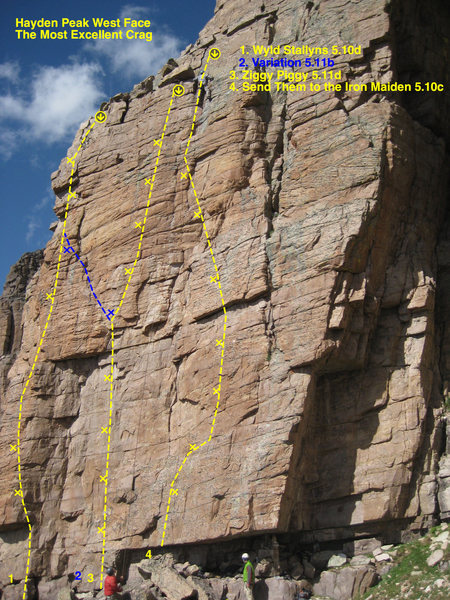 The Most Excellent Crag