Jugs
5.9-, Sport, 30 ft (9 m),
Avg: 2 from 46 votes
FA: Matthew Nunes
Alabama > Sand Rock > New Wall (AKA Kurt Ru…
Description
It was a beautiful, fall morning, but pretty much the most crowded day at Sand Rock I've ever experienced. We ran away from Holiday Block, trying to escape the crowds, which had already worked their way down to the Sun Wall.

So off we went to the New Wall.

The only person we ran into was Johnny Arms, setting up a new route at the farthest end of the second section of the New Wall. His drill battery had just died, but not before he had set three bolts and a single shut at the top. My son and I were just finishing up on Unknown 6 when Johnny asked if my son wanted the first climb.

"I was going to call it Jugs, 'cause that's all it is," he said.

It's a fun little climb, with some enormous holds all the way up. Johnny thought it might be a soft 9, at best; the last move past the 3rd bolt probably is 9-ish, but other than that, this route is in line with the other 8's on the New Wall.
Location
At the far end of the new wall, to the right of Unknown 8.
Protection
Three bolts and a single open shut at the top. This is a new route (put up on 11/2/13) so be careful what you're pull on.
Photos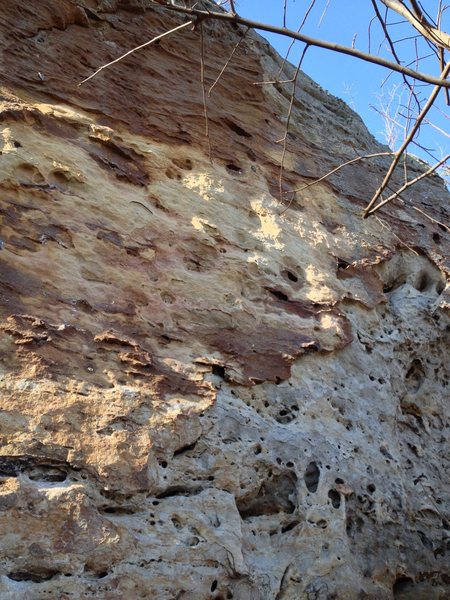 One of Johnny Arms's latest contribution to the Kurt Russell Block.