Unkown Name 2
V5-6, Boulder, 14 ft (4 m),
Avg: 4 from 1 vote
FA: unknown
International > N America > Canada > Newfoundland &… > Newfoundland > W Coast > Humber Valley > Pasadena Boulders > Two large boulders > Large Boulder 2
Description
Start matching on the rail with your left foot heal hooking. Right foot smearing below the rail for tension. Bump right had to a slopey edge to the right of the arete and your starting holds. Bump left hand to a pinch just right of your right hand. Bump your right hand out right to a meat hook or bear claw a pinch feature hold. Rock up and grab the big pinch at the bottom of the arete with your left hand. Match the arete with your right hand as an undercling. Left hand to a two finger pocket. Head straight up to a slopy top out or head right along the arete for a less slopy top out.
Protection
Pads. A spotter.
Photos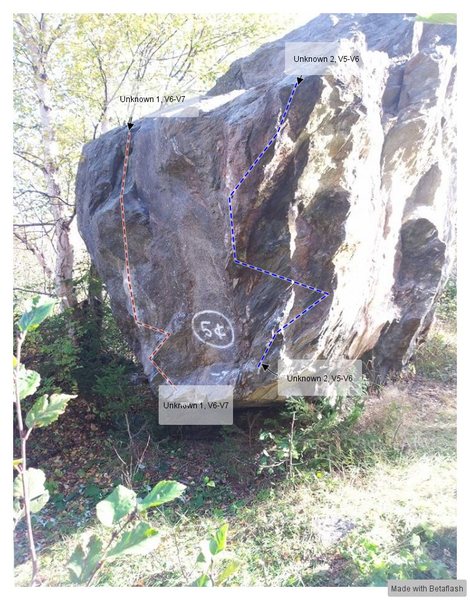 2 Problems on the arete