Thundercats are Go!
5.10 A0, Trad, Aid, 900 ft (273 m), 5 pitches, Grade III,
Avg: 3 from 1 vote
FA: NM and Ben Coyle
Colorado > Durango > Pine River Trad > Tradistan Tower
Description
P1 - head up the blocky dihedral and exit left to a ledge with a large tree for a belay (5.8, 100 feet).
P2 - continue up into chimney system for another 100 feet to another ledge at the base of a loose, bombay chimney and belay off large boulders (5.8).
P3 - plug a low cam into the chimney, and cut left up the face making awkward moves on marginal gear until you reach a small ledge at the base of a killer hand crack. Jam the crack, and then stem/chimney past a small roof with some large, loose flakes lodged inside it. Another 30 or so feet leads you to the base of an obvious finger crack above a large block (5.10, 200 feet).
P4 - climb the crux finger crack, and then ascend mostly low 5th class terrain to the base of a short dihedral and belay off trees (5.10 A0, 200 feet; this probably goes free at 10+, but the FA party had to use a shoulder boost/bail to avoid a potentially scary deck).
P5 - climb the dihedral and two or three more "tower" features, trending right basically until the rope runs out and belay off blocks (5.8, 200 feet).
At this point, we untied and scrambled up and right to the top of the
Nuggernaut
raps.
Location
On the far left side of Tradistan about 100ft or so left of No Country For Old Men and follows a series of cracks, chimneys and dihedrals, eventually reaching a series of blocky towers that lead you up and right toward the top of the Naut. Uses the Nuggernaut raps so the best approach is to ditch your stuff at the Naut and bushwack left past No Country until you are at the base of a black, blocky dihedral feature (see beta photos).
Protection
Double set of cams, nuts, lots of slings. Gear or natural anchors only, no fixed gear on route. Two 70m ropes make the raps much more enjoyable
Photos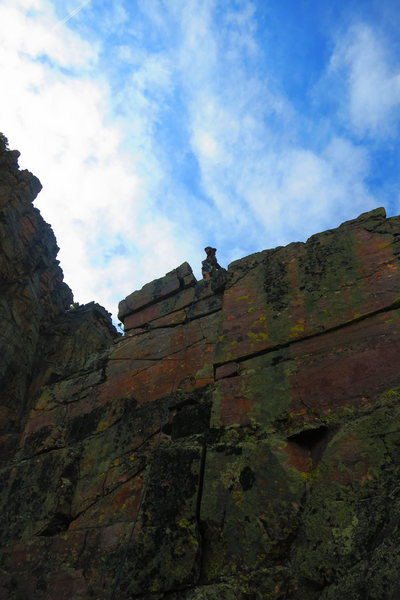 The top of pitch 5 and the end of the technical climbing.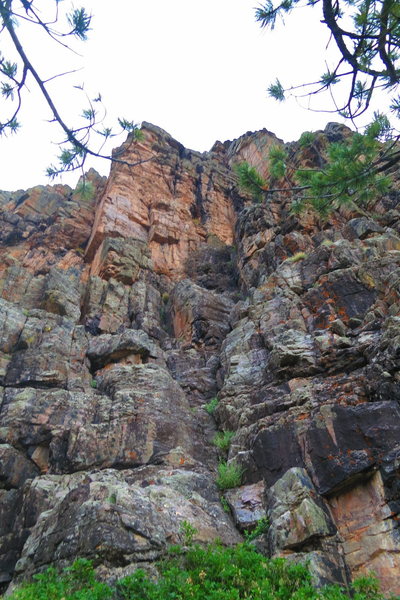 Pitch 2.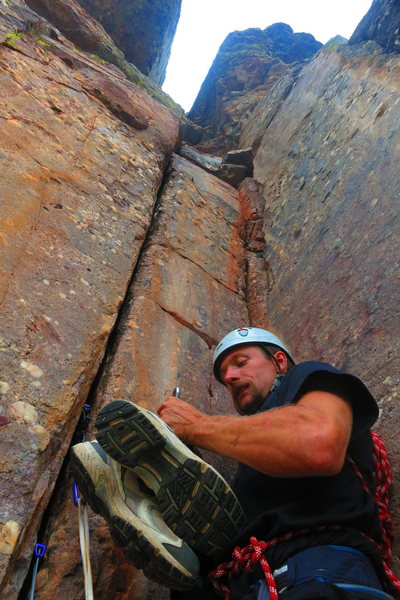 The crux finger crack.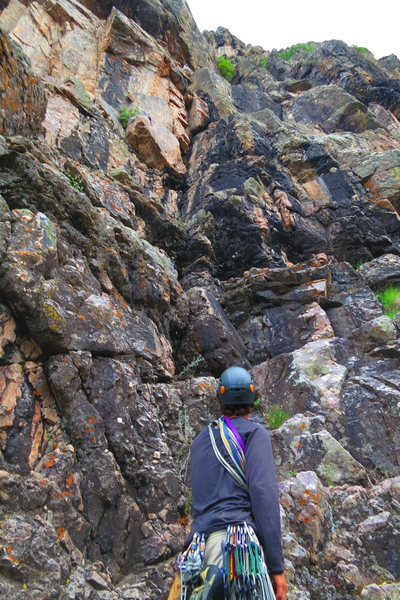 At the base of the route looking at p1.