Thwarthog
Avg: 2.7 from 6 votes
| | |
| --- | --- |
| Type: | Trad, 220 ft (67 m), 2 pitches |
| FA: | Todd Swain, Pete Yost, Pete Axelson. 1983 |
| Page Views: | 1,087 total · 10/month |
| Shared By: | Tim Mijal on Jun 23, 2013 |
| Admins: | Jay Knower, M Sprague, Lee Hansche, Jeffrey LeCours, Jonathan S, Robert Hall |
Your Difficulty Rating:
-none-
Change
Description
Although the approach and finding the route can be a little troublesome, this route offers some great climbing, nice exposure, and a good dose of seclusion. If you're one who likes a good adventure then this is a great choice. I think finding the route was the crux of the day.

Pitch 1: Climb up and to the right to a blank corner. Climb the corner (Bolt), continue up good holds to a roof and then move right to a large ledge. (80')

Pitch 2: climb up and left utilizing some horizontals. Apparently there was an old ice screw which gives the route its name, but I could not find it. Shoot for a small right facing corner at the left end of a roof. steep moves up and to the left lead out of the corner. Then head up and left aiming for a short finger crack which climbs to a tree on the top.
Location
This route is located towards the left end of the far cliff. There are a few ways to find the climb, You could rappel from the lookouts the the trail leads to, or bushwhack from the lower trail through the woods.
I had to move to a different area of the cliff and rappel down with two 60 meter ropes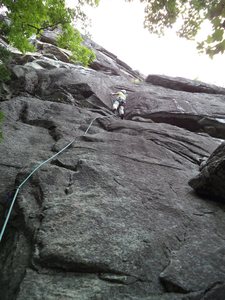 Pitch 1
2