Lock and Pop
Avg: 2.2 from 44 votes
Your Difficulty Rating:
-none-
Change
Access Issue:
Day Use Only/No Campfires
Details
Day use only and no campfires in the Forestland/Barney's Rubble parking area and vicinity.
Access Issue:
Seasonal Raptor Closures
Details
Each year, the USFS monitors for raptor nesting.

A pair of golden eagles regularly nest on Bridge Creek Wall. When in effect, starting January 1, PLEASE DO NOT CLIMB or travel within 1/2 mile of Bridge Creek Wall. As a reference, the climb Condorphamine Addiction is just outside of this 1/2 mile buffer, and is OK to climb still. The closure extends through August 15, but there is active monitoring to determine if the seasonal closure can be lifted earlier.

In 2014, there was an active pair of peregrine falcons at Snow Creek Wall, but no official closure was put in effect due to the location of the falcons. The site will be continually monitored with changes or removal of closures updated as necessary.
Description
Lock and Pop is the most obvious line on this boulder. Grab the big holds on the corner facing the trail, and work your way up the arete to finish straight up.
It's a good climb, but honestly, it's an awful lot better looking than it climbs. Good rock, clean fall.
Location
The arete climb on the first boulder you encounter on your way up to Forestland. The next boulder uphill is the Backdoor Ass Attack boulder.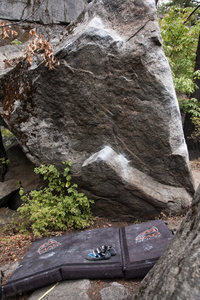 L&P
0