The Birth Canal
5.7, Sport, 30 ft (9 m),
Avg: 2 from 1 vote
FA: Nick Martel, Kristina Bergdahl-Martel
Arizona > Southern Arizona > Mt Lemmon (Sant… > Mt Lemmon (Cata… > 6 - Mid-Mountain > Jenga Tower & Y… > Your Mom's Basement
Description
Climb up short easy slab section. Continue climbing up the big water groove through the bulge above using funky chicken wings and body stemming and crimps. Fun and unusual climbing for the grade but very short.
Location
This is the leftmost route on the wall. Starts on the first piece of flat ground after hopping down by the "Tiki Head". Climbs short obvious water groove.
Protection
4 bolts and chain anchors. The anchors can also be reached by scrambling to them from the top. This was originally lead on super sketchy offset brass micro-nuts, none of which inspired any confidence, which is still an option if 5.7R is your game.
Photos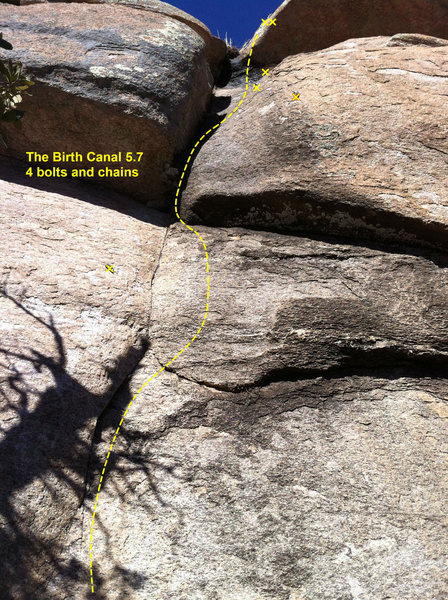 Beta