Hang Ten
5.4, Trad, Sport, 350 ft (106 m), 2 pitches,
Avg: 2.5 from 12 votes
FA: Rusty Baillie, 1987
Arizona > Central Arizona > *Prescott Area > Granite Mountain > Granite Basin C… > Waves of Rock
Access Issue:
Falcon Closures from February 1st until July 15th
Details
Description
Pleasant slab climbing on a well-bolted face of high quality granite. This climb is a perfect introduction to multi-pitch climbing for novices, but the spectacular views of Granite Basin and Granite Mountain make the outing worthwhile for climbers of any skill level. There are four sets of anchors (bolt hangers only), allowing the climb to be broken into four pitches. However, the climb can be done in two pitches with a 60 meter rope.
Pitch 1: The steepest climbing and hardest moves occur in the first 60 feet. Clip bolts up a steepening face and over two large horizontal cracks, passing a set of optional belay anchors midway. There are several options for placing cammiing devices or stoppers on the lower part of the pitch. Belay at a second set of anchors.
Pitch 2: Clip bolts up more mellow terrain than the previous pitch. Clip an old fixed pin and two more bolts then angle up and left to find the belay/rappel anchors at a shelf.
Descent: If looking down the face, rappel into the gully on the right on two 60 meter ropes, or walk off on the slabs to the left. For the rappel, descend past the very large ponderosa pine, being careful not to dislodge loose rocks at its base. 50 feet below the tree, down-climb easy terrain to finish the descent. A second rappel can be set up on the tree if desired, avoiding the down-climbing. 10-12 feet of webbing and a rap-ring may come in handy.
Location
On the right side of Waves of Rock formation, the start of Hang Ten can be found a few feet right of Flake Thing.
Protection
Pitch 1: 11 bolts to a 2 bolt anchor. Several options for camming devices or passive protection.
Pitch 2: 7 bolts plus a fixed-pin to a 3 bolt anchor with chains.
Photos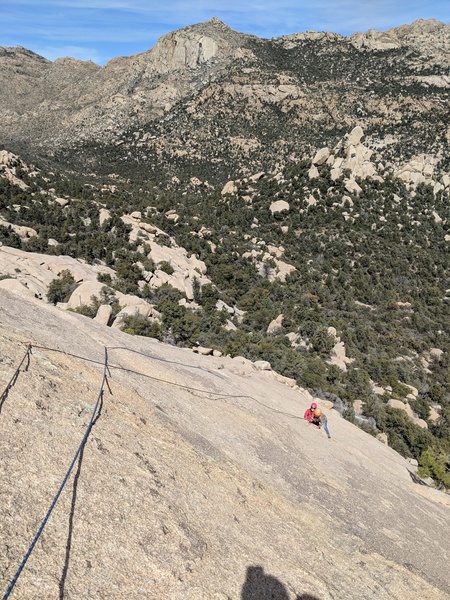 My son Gavin, age 5, on his first multipitch route.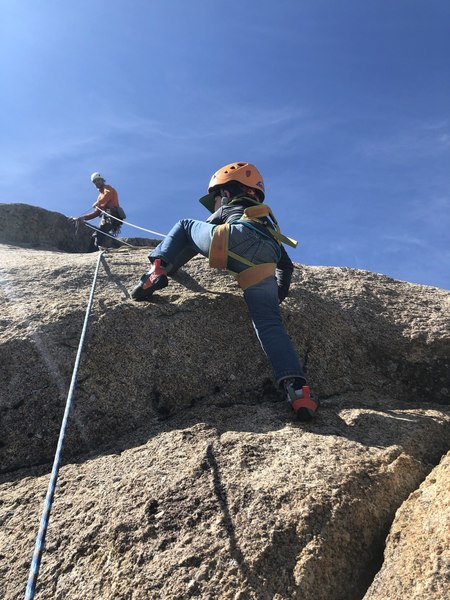 Gavin following first pitch. Age 5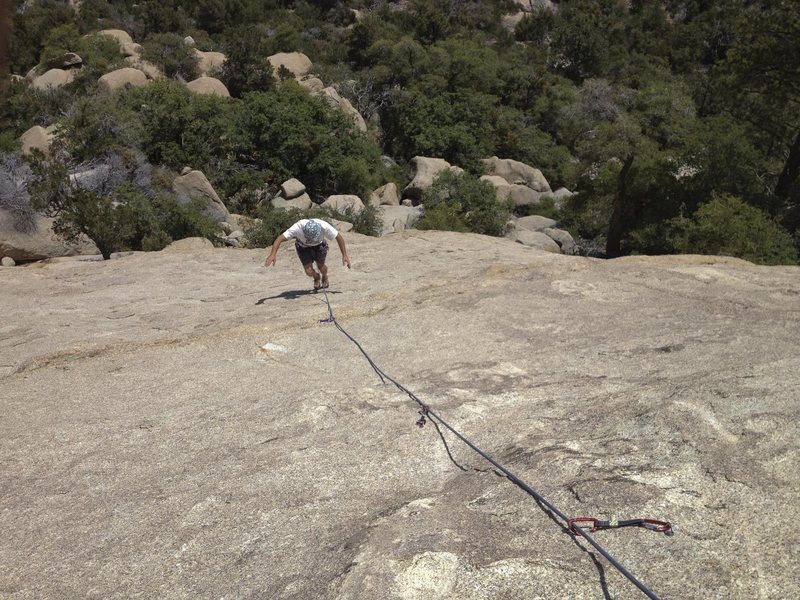 Climber "Hanging Ten" on Hang Ten, Waves of Rock.