Change Up
5.11c, Sport, 100 ft (30 m),
Avg: 3 from 2 votes
FA: Mike Freischlag, 1996? Kevin Murphy?
Colorado > Lyons > St Vrain Canyons > S Fork of St Vr… > Field of Dreams
Description
Wow, what a really really nice route for its grade, although the rock at bottom is a little flaky, the rest of the route is solid and of great quality.

Just before the end of the crack, reach into the back of the crack for better holds and jam to top of crack. It is a pump, and the crack exit is no piece of cake.

Traverse the ledge to the right and begin a series of crimpers and sidepulls diagonaling right. Traverse back left at the 11c crux which isn't much harder than what you've just climbed. From the last bolt, move up and left, get to the holds below the anchors, switch feet, and try and make the clip. Good luck! An awesome pitch!
Location
Start at the big, right-facing corner, continue to face above.
Protection
A red Camalot (#1) and couple of nuts or Aliens at the start before you reach the first bolt. There are a total of 11 bolts after that and 2 bolt anchor at top. We left the "fixed" nut in place.
Photos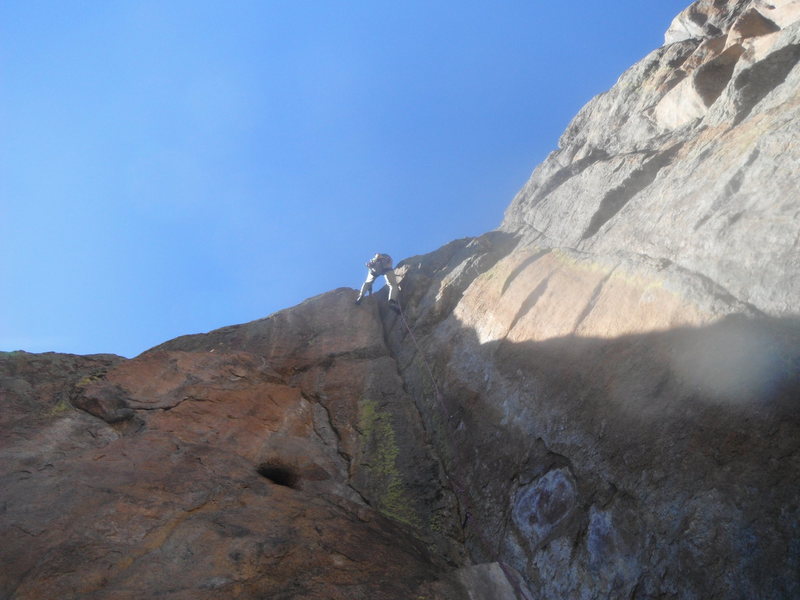 Feeling the pump, am I getting too old for this at 56, trying to onsight 11c?