A Walk in the Park
Avg: 2.2 from 50 votes
Your Difficulty Rating:
-none-
Change
Description
This route has a bouldery start that may result in an awkward fall for beginner climbers, even on top-rope. A spot is recommended!!! After clipping the first bolt the route trends up and left on easier but enjoyable holds to the final difficult section before the anchors.
Location
This route is just around the corner from the alcove on the far left end of Riverview Park.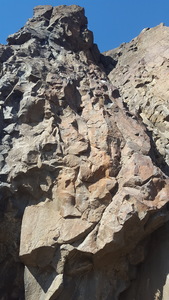 Up
0