Fang & Fist
WI5, Trad, Ice, 800 ft (242 m), 5 pitches, Grade V,
Avg: 4 from 7 votes
FA: Al Dunham, Bill Stark. Jan '95
International > N America > Canada > Alberta > N Ghost
Description
An outstanding line in a very remote setting! The first pitch is the crux, and when this free-standing pillar is thin, it can be quite engaging, and the 2nd pitch will get your attention as well. Overall a fun route with a lot of character.

Pitch 1, WI 5, 50m: Climb the initial pillar, then continue up lower angle ice and some snow to the base of the next pillar.

Pitch 2, WI5, 50m: Climb another steep, free-standing pillar (likely more solid than the first)and then a steep ice wall to a belay below a short ice-step.

Pitch 3, 40m: Climb the short step, then up snow to the base of a short, ice-wall.

Pitch 4, WI3, 50m: Climb easy ice and then slog up more snow to the base of the final pitch.

Pitch 5, WI4-, 40m: Climb short steep pitch, then up snow to a tree belay on the right.
Location
The route is up Malamute Valley and the East Fork of Claw Creek.

Drive past GBU, following cairns and signage for about 20 minutes past Valley of the Birds and the Beowolf drainage. Several creek crossings are involved so be prepared. You will drive, literally, to the end of the road.

From the parking area, head up the left side of creek bed for 40 - 45 minutes, and then take a right up the East Fork of Claw Creek, where the canyon narrows. After about 10 - 15 minutes, Fang & Fist will be obvious on the right. Hike up the easy bowl to the base of the route.

This route is a long way from help, so be careful.
Protection
The route will take medium to long screws, and bring chord for v-threads. The rappel from the top of the last pitch is from a tree, otherwise use v-threads.
Photos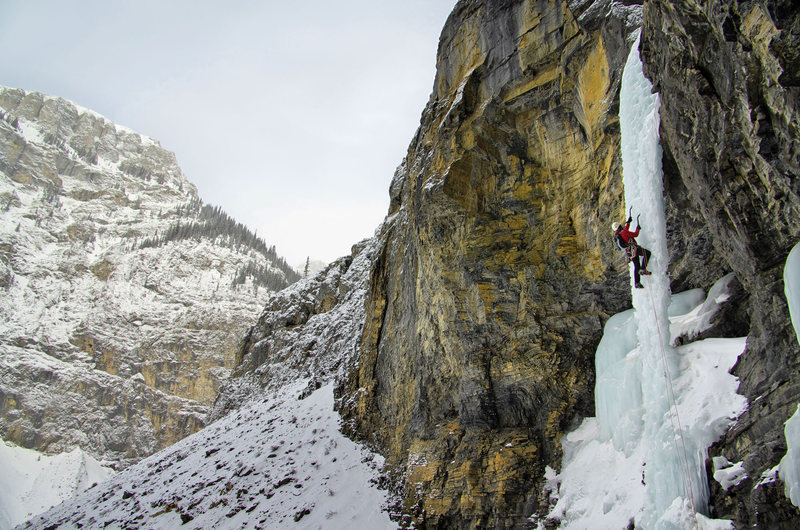 Dave Rone on the first pitch of Fang and Fist. Feb 26, 2012.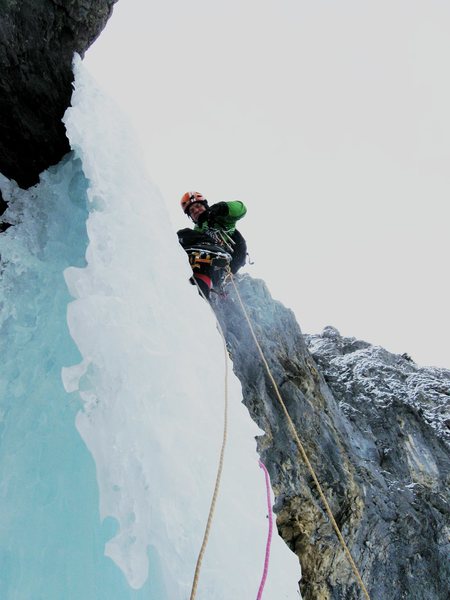 Kris Gorny on the 2nd pitch of Fang & Fist.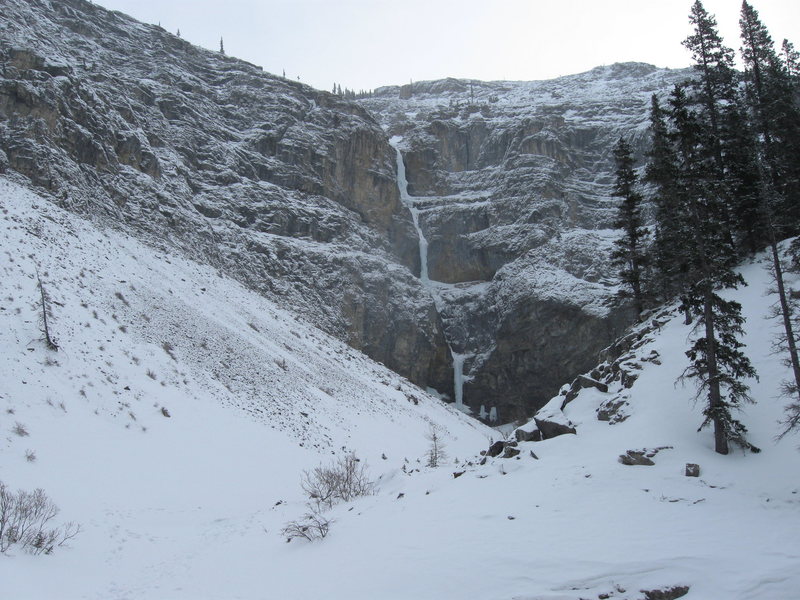 The Fang & Fist from the creek bed. The lower part of the first pitch and the upper pitches are not visible.