Before You Hueco
Avg: 2.3 from 4 votes
| | |
| --- | --- |
| Type: | Boulder |
| FA: | n/a |
| Page Views: | 411 total · 3/month |
| Shared By: | Jesse Zacher on Mar 25, 2011 |
| Admins: | Leo Paik, John McNamee, Frances Fierst, Monty, Jesse Zacher, Monomaniac, Bradley Mark Edwards, Nick Reecy, Tyler KC, Jared LaVacque |
Your Difficulty Rating:
-none-
Change
Description
This is a great problem that requires some good body tension and some tough skin. Sit start and pull to the stuck chockstone. From here, throw to a decent pinch and work your way up some powerful moves.
Location
This is on the overhung backside of the V5- Boulder. The chalk is very obvious if approaching this boulder from the Large Diamond Boulder.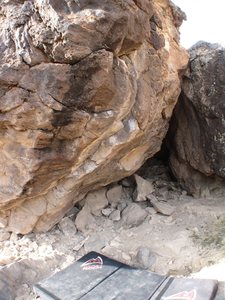 Day.
0