Cap'n Smith (submitted as Junk Corner)
5.9+, Trad, 50 ft (15 m),
Avg: 2 from 27 votes
FA: Stewart M. Green and Brian Shelton, 2006
Colorado > Grand Junction… > Escalante Canyon > Cabin Wall
Access Issue:
CABIN WALL IS ON PRIVATE PROPERTY
Details
The Cabin Wall is on private property. Continued use of this area relies on good stewardship and a relationship of trust with the landowner.

Respect local residents, cattle and wildlife by following the posted speed limit of 20 mph.
Minimize user impact by staying on established trails and roads.
Park off the road in established pull-offs or parking areas.
Pack out human waste and garbage.
Keep noise to a minimum.
Portions of Escalante Canyon are active ranching areas. Keep pets under leash control at all times.
No fires and no discharge of firearms.
Camp in established areas only. No camping on private property.

Access Issue:
Private Property
Details
Per
Randall Chapman
: I was out there today, there are signs are up on the fence now, and it is official, Cabin Wall and the Island are closed. I noticed today that the fence doesn't extend very far past the parking area but according to the Delta County GIS map, The Island is also on their property, and the wording in their sign indicates they intend it to be closed.
Description
Start off on some poor rock to gain a ledge and climb the cleaner, wide dihedral.
Location
The route starts 50 feet to the climber's right of Shallow Dihedral.
Protection
Blue Metolius, #0.4 Camalot, #2 Camalot, #4 Camalot. It has a bolted anchor.
Photos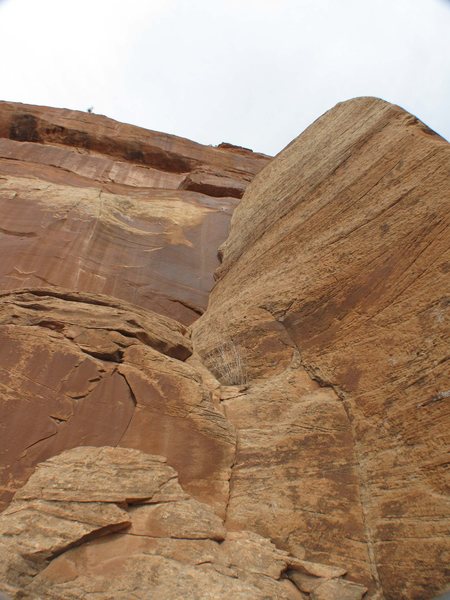 Ol' Junk.