Cobra Venom
5.11a, Sport, 80 ft (24 m),
Avg: 3.4 from 18 votes
FA: Wee Changrua & Elke Schmitz 2005
International > Asia > Thailand > S - Islands & B… > Laem Phra Nang… > Tonsai Bay > Cobra Wall
Access Issue:
Warning!
Stainless steel bolts are suspect near the coast!
Details
You can read about the warning
here
. There is extensive rebolting being done by the
Thaitanium Project
, which has already rebolted the vast majority of popular routes in the main areas. Be informed!
Description
Starts from the exposed ledge and shares the start with Ngu Baen Vohk. Fun moves on good holds cross slabby to vertical to overhanging rock. Great position on the left arete of Cobra Wall with a view out Tonsai bay.
Location
Shared start with Ngu Baen Vohk up at the far left end of the Cobra wall on the exposed ledge. Moves up and left.
Protection
9 titanium glue-in bolts and 3 threads; titanium anchor; bolted in 2005
Photos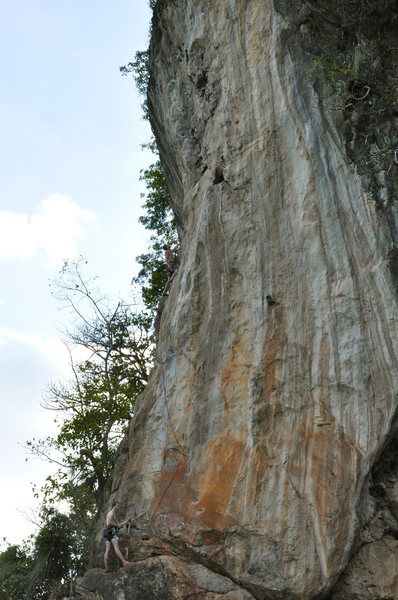 leading Cobra Venom