Jamminy Crackit
5.11-, Trad, 105 ft (32 m),
Avg: 3.3 from 12 votes
FA: Skip Harper, et al.
Wyoming > Vedauwoo > Blair (overview) > Upper Blair > John's Tower
Description
This is a great route that doesn't see much traffic. For the grade at Vedauwoo, it is very friendly.

JC is located on the east end/buttress of John's Tower. This beautiful crack line navigates through steep territory. The line is obvious, with a steep, twin crack start with big hands. This transitions to thin hands with some good hand pods in steep, leaning bulge. This narrows down to fingers and then you pull a nice, fun roof that fortunately gives you a lot to work with.

Pull onto a ledge and totally switch gears. The book says that there are bolts (i.e. plural) on the face above you, but there was only one. You can tinker in some small, not so great stoppers, but be careful as the crux is encountered before you clip the bolt about 10 feet off the ledge. It is really good face climbing here but somewhat serious. There is a bolted anchor not too far above.

From the ledge, supposedly there is a bolted variation that goes out left (I didn't see it). Also, you can do a classic, Vedauwoo-looking crack traverse to the right and then climb an overhanging corner to escape. The traverse looks pretty wild, but it has perfect gear.
Location
If approaching John's Tower from north, it is on the far left (east) side. You can't miss it - it is an overhanging crack/corner that is begging to be climbed.
Protection
Standard rack to #4 Camalot, maybe a couple extra in the thin hands to hands range. It has a bolted anchor at top. We had a 70m, which had plenty left over. Be careful though as the ground kind of slopes/ledges down away from the base.
Photos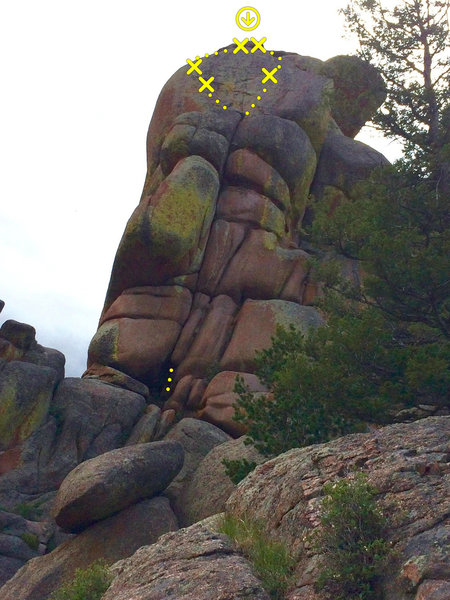 Jamminy Crackit.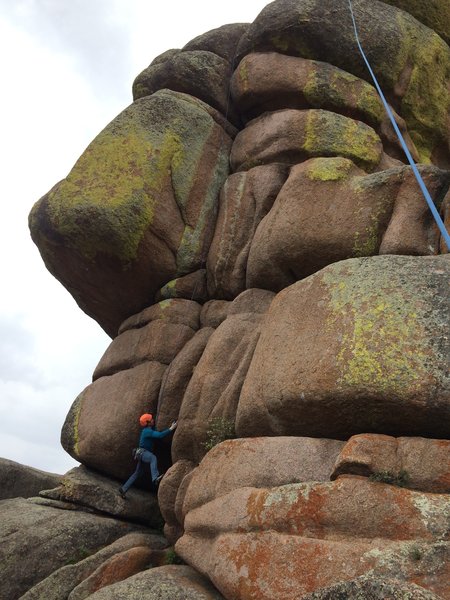 Slava toproping Jamminy Crackit.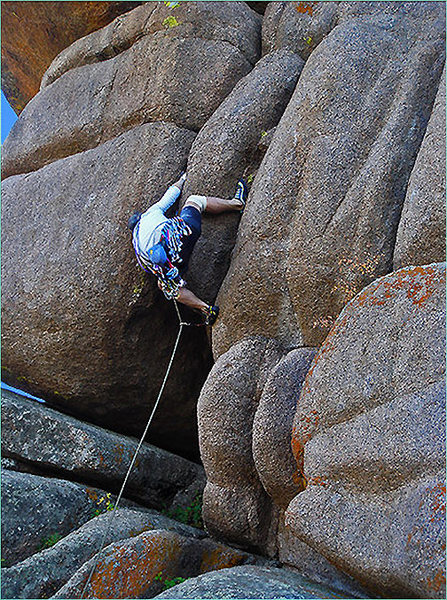 The rather disquieting start to 'Jamminy Crackit'. Slightly blurred out, but you get the idea. A headless Harper on the route.