Turd Burgler
The name of this route has been flagged as potentially discriminatory.
More Info
A2+
Avg: 1 from 1 vote
| | |
| --- | --- |
| Type: | Trad, Aid, 60 ft |
| FA: | Mark Weber, Todd Gordon |
| Page Views: | 418 total · 3/month |
| Shared By: | toddgordon Gordon on May 28, 2010 |
| Admins: | Greg Opland, C Miller, M Morley, Adam Stackhouse, Salamanizer suchoski, Justin Johnsen, Vicki Schwantes |
Your Difficulty Rating:
-none-
Change
Description
This is an aid climb located just behind the Dweeb Spire on the W. Face of Snickers. It follows a seam and thin crack, and probably has some nailing on it for most folk. The route goes straight up for most of the way, but takes a horizontal crack straight left near the top. As a "practice" aid climb, this is something worth considering.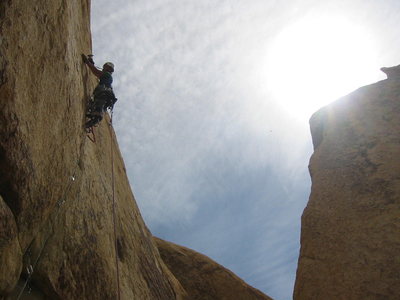 T.B.
0