Stranger in Moscow
Avg: 2.1 from 54 votes
Routes in The Bank
1979 S

5.11b

6c

23

VIII-

23

E3 5c

2010A S

5.10a

6a

18

VI+

18

E1 5a

2112 S

5.9+

5c

17

VI

17

E1 5a

2150 A.D. S

5.10d

6b+

21

VII+

21

E3 5b

5.10 Crack T

5.10

6b

20

VII-

19

E2 5b

5.10a corner T

5.10a

6a

18

VI+

18

E1 5a

5.11 Arete S

5.11

6c+

23

VIII-

23

E4 5c

5.9 crack T

5.9

5c

17

VI

17

HVS 5a

[Redacted] S

5.11b

6c

23

VIII-

23

E3 5c

[Redacted] S

5.10d

6b+

21

VII+

21

E3 5b

Abu Simbel S

5.10b

6a+

19

VII-

19

E2 5b

Aerial Solution S

5.10c

6b

20

VII

20

E2 5b

Alcohollica S

5.8+

5b

16

VI-

15

HVS 4c

Another Bolted Crack T,S

5.8+

5b

16

VI-

15

HVS 4c

Aoxomoxoa S

5.12b

7b

26

VIII+

26

E5 6b

Apple Cracks, The S

5.7

5a

15

V+

13

MVS 4b

Aspiring Frog S

5.10

6b

20

VII-

19

E2 5b

B/C S

5.9+

5c

17

VI

17

E1 5a

Baby Face Nelson S

5.9+

5c

17

VI

17

E1 5a

Back To The Future S

5.11b/c

6c+

23

VIII-

24

E4 6a

Binge and Purge S

5.10d

6b+

21

VII+

21

E3 5b

Birthing the Piggy T

5.8

5b

16

VI-

15

HVS 4c

Black Hole Sun S

5.9-

5c

17

VI

16

HVS 4c

Bridget the Midget S

5.9

5c

17

VI

17

HVS 5a

British Persuasion S

5.10-

6a

18

VI+

18

E1 5a

Bum Cakes (formerly listed as Buns) S

5.9+

5c

17

VI

17

E1 5a

Burnt Toast S

5.7

5a

15

V+

13

MVS 4b

Butch Cassidy S

5.10a

6a

18

VI+

18

E1 5a

Cat Ate My Homework, The S

5.10d

6b+

21

VII+

21

E3 5b

Cerebral Brain Freeze S

5.11d

7a

24

VIII

25

E5 6a

CJ & The Lesbian Seagull S

5.8

5b

16

VI-

15

HVS 4c

Concentrated Weirdness S

5.8+

5b

16

VI-

15

HVS 4c

Corner Blitz S

5.9

5c

17

VI

17

HVS 5a

Courage and Enlightenment S

5.11d

7a

24

VIII

25

E5 6a

Crab Nation S

5.10a

6a

18

VI+

18

E1 5a

Dancin` Shoes S

5.11a

6c

22

VII+

22

E3 5c

Dave Dangle S

5.11b/c

6c+

23

VIII-

24

E4 6a

Deconstructing Harry S

5.9+

5c

17

VI

17

E1 5a

Desserter S

5.10a

6a

18

VI+

18

E1 5a

Dillinger S

5.9

5c

17

VI

17

HVS 5a

Dirty Deed S

5.8

5b

16

VI-

15

HVS 4c

Disciples of Hell S

5.11b

6c

23

VIII-

23

E3 5c

Doggie Style T

5.9

5c

17

VI

17

HVS 5a

Don Show, The S

5.9

5c

17

VI

17

HVS 5a

Emperor's Robe S

5.11d

7a

24

VIII

25

E5 6a

Energy Before Ecstasy S

5.10a/b

6a+

19

VI+

19

E2 5b

Ethics? What Ethics? S

5.11b

6c

23

VIII-

23

E3 5c

Feverish S

5.10c

6b

20

VII

20

E2 5b

Flesh Tuxedo S

5.11a

6c

22

VII+

22

E3 5c

From Russia With Love S

5.10a

6a

18

VI+

18

E1 5a

Future Fossil S

5.12c

7b+

27

IX-

27

E6 6b

Gambino S

5.9+

5c

17

VI

17

E1 5a

Geek USA S

5.12a

7a+

25

VIII+

25

E5 6a

Gen X ation (aka Musso Route) S

5.10d

6b+

21

VII+

21

E3 5b

Generation X S

5.11b

6c

23

VIII-

23

E3 5c

Goodfellas S

5.10a

6a

18

VI+

18

E1 5a

Harry S

5.11a

6c

22

VII+

22

E3 5c

Heaven is Waiting S

5.10+

6b+

21

VII+

20

E3 5b

Heavy Weather S

5.12a/b

7b

26

VIII+

26

E5 6a

Heretic S

5.8

5b

16

VI-

15

HVS 4c

Hicks, Hillbillies, Hobos S

5.7+

5a

15

V+

13

MVS 4b

Hostile Crankover S

5.11b

6c

23

VIII-

23

E3 5c

I Have a Dream S

5.8

5b

16

VI-

15

HVS 4c

Ice Cream Hangover S

5.11b

6c

23

VIII-

23

E3 5c

Incredible Weather S

5.12d

7c

28

IX

28

E6 6b

jasonbecker.com S

5.10-

6a

18

VI+

18

E1 5a

Jesse James S

5.8

5b

16

VI-

15

HVS 4c

Kicker S

5.9

5c

17

VI

17

HVS 5a

Killer Chihuahua S

5.10a

6a

18

VI+

18

E1 5a

Knot Too Many Roaches S

5.10a/b

6a+

19

VI+

19

E2 5b

Ladies' Night In Buffalo S

5.9-

5c

17

VI

16

HVS 4c

Large Marge S

5.8+

5b

16

VI-

15

HVS 4c

Le Petit Verdon S

5.8

5b

16

VI-

15

HVS 4c

Le Pincher S

5.13a

7c+

29

IX+

29

E6 6c

Lefty S

5.9-

5c

17

VI

16

HVS 4c

Lemons, Limes and Jalapenos S

5.12b

7b

26

VIII+

26

E5 6b

Lesser of Two Evils S

5.11b

6c

23

VIII-

23

E3 5c

Let Me Out S

5.9

5c

17

VI

17

HVS 5a

Leverage S

5.10c

6b

20

VII

20

E2 5b

Lick and a Promise S

5.10c

6b

20

VII

20

E2 5b

Lime Street S

5.11b

6c

23

VIII-

23

E3 5c

Limestone Cowboy T

5.6

4c

14

V

12

S 4b

Living in America S

5.12a

7a+

25

VIII+

25

E5 6a

Lloyd T

5.7

5a

15

V+

13

MVS 4b

Lost Planet Airman S

5.11c

6c+

24

VIII-

24

E4 6a

Louis XIV S

5.10d

6b+

21

VII+

21

E3 5b

Loves Me Like a Rock S

5.8

5b

16

VI-

15

HVS 4c

Ma Barker S

5.7

5a

15

V+

13

MVS 4b

Machine Gun Kelly S

5.11c

6c+

24

VIII-

24

E4 6a

McFly S

5.12d

7c

28

IX

28

E6 6b

Metamusso S

5.11a

6c

22

VII+

22

E3 5c

Mighty Aphrodite S

5.10a

6a

18

VI+

18

E1 5a

Mighty Mouse S

5.10d

6b+

21

VII+

21

E3 5b

Misery S

5.9+

5c

17

VI

17

E1 5a

Mismatched Partners S

5.10b/c

6b

20

VII

20

E2 5b

My Versailles Guy S

5.8+

5b

16

VI-

15

HVS 4c

Neopolitan Headrush S

5.12a

7a+

25

VIII+

25

E5 6a

New Comer (aka New Corner) S

5.10a

6a

18

VI+

18

E1 5a

No Future for the Timid S

5.11d

7a

24

VIII

25

E5 6a

No Rest For the Wicked S

5.12a/b

7b

26

VIII+

26

E5 6a

Number 1 Super Guy S

5.11a

6c

22

VII+

22

E3 5c

Old But Not Dead S

5.11+

7a

24

VIII

24

E4 6a

On the Mushroom S

5.11b

6c

23

VIII-

23

E3 5c

On the Ritz S

5.11b

6c

23

VIII-

23

E3 5c

Once Upon a Time S

5.11a/b

6c

23

VIII-

23

E3 5c

One Tough Waterjug S

5.9-

5c

17

VI

16

HVS 4c

Otis S

5.12c

7b+

27

IX-

27

E6 6b

Peking S

5.7

5a

15

V+

13

MVS 4b

Pennies and Piggydust T

5.8-

5b

16

VI-

14

VS 4c

Peter Pan S

5.11b

6c

23

VIII-

23

E3 5c

Pig City Nights S

5.8

5b

16

VI-

15

HVS 4c

Pink Torpedo S

5.9+

5c

17

VI

17

E1 5a

Pink Torpedo (extension) S

5.11b

6c

23

VIII-

23

E3 5c

Piñon Slalom S

5.9

5c

17

VI

17

HVS 5a

Plate Tectonics S

5.10c

6b

20

VII

20

E2 5b

Poncho S

5.8

5b

16

VI-

15

HVS 4c

Poncho and the Three Perverts S

5.8-

5b

16

VI-

14

VS 4c

Power Broker S

5.12c/d

7c

28

IX

28

E6 6b

Prestevious T

5.8-

5b

16

VI-

14

VS 4c

Pretty Boy Floyd S

5.8-

5b

16

VI-

14

VS 4c

Primal Scream S

5.9+

5c

17

VI

17

E1 5a

Project Focus S

5.10b

6a+

19

VII-

19

E2 5b

Puking Yuppies S

5.11a

6c

22

VII+

22

E3 5c

Pullin' Down in the Fields of Cotton S

5.10a/b

6a+

19

VI+

19

E2 5b

Purple Packer Smacker S

5.7

5a

15

V+

13

MVS 4b

Purple Reign S

5.5

4b

13

IV+

11

MS 4a

Quickstrike S

5.10c

6b

20

VII

20

E2 5b

R.A.M.M. S

5.10+

6b+

21

VII+

20

E3 5b

Rack, The S

5.11-

6c

22

VIII+

22

E3 5c

Ragnar S

5.6

4c

14

V

12

S 4b

Razor Burn (aka Stewart's Slab) S

5.8+

5b

16

VI-

15

HVS 4c

Richter Scale S

5.10c

6b

20

VII

20

E2 5b

Ripped S

5.10b

6a+

19

VII-

19

E2 5b

Rock Frog S

5.10c

6b

20

VII

20

E2 5b

PG13
Scarf and Barf S

5.11b/c

6c+

23

VIII-

24

E4 6a

Scarface S

5.10d

6b+

21

VII+

21

E3 5b

Scavenger's Daughter S

5.10c

6b

20

VII

20

E2 5b

Scraggle Face McCrackerson T

5.7

5a

15

V+

13

MVS 4b

Scramblin' Fran S

5.5

4b

13

IV+

11

MS 4a

Season Down Under S

5.10b

6a+

19

VII-

19

E2 5b

Shady Character S

5.10a

6a

18

VI+

18

E1 5a

Shelf Life T

5.8

5b

16

VI-

15

HVS 4c

Shelfish S

5.9

5c

17

VI

17

HVS 5a

Shout S

5.11a

6c

22

VII+

22

E3 5c

Sicilian Style S

5.11a/b

6c

23

VIII-

23

E3 5c

Silver Rain S

5.11a

6c

22

VII+

22

E3 5c

Sky, Blue Sky S

5.12b

7b

26

VIII+

26

E5 6b

Sleeper S

5.8

5b

16

VI-

15

HVS 4c

Slot Machine S

5.10a

6a

18

VI+

18

E1 5a

Solitude S

5.11a/b

6c

23

VIII-

23

E3 5c

Sonic Youth S

5.10c

6b

20

VII

20

E2 5b

Soprano S

5.10d

6b+

21

VII+

21

E3 5b

Sparkle In The Rain S

5.12c

7b+

27

IX-

27

E6 6b

Sparky S

5.8

5b

16

VI-

15

HVS 4c

Stair Master S

5.8

5b

16

VI-

15

HVS 4c

Starving Hippies S

5.11c

6c+

24

VIII-

24

E4 6a

Staying Power S

5.11c

6c+

24

VIII-

24

E4 6a

Stick It aka Serious Power Outage S

5.11a

6c

22

VII+

22

E3 5c

Stomach Stapler S

5.10c

6b

20

VII

20

E2 5b

Storm Girl S

5.10a

6a

18

VI+

18

E1 5a

Stormy Weather S

5.11a

6c

22

VII+

22

E3 5c

Stranger in Moscow S

5.9

5c

17

VI

17

HVS 5a

Sty in the Sky S

5.9

5c

17

VI

17

HVS 5a

SuedeHead S

5.12d

7c

28

IX

28

E6 6b

Surreal Estate S

5.12c

7b+

27

IX-

27

E6 6b

Sweepings, The S

5.10a

6a

18

VI+

18

E1 5a

Taping Tendons S

5.11c/d

7a

24

VIII

25

E4 6a

Team Anorexia S

5.11a

6c

22

VII+

22

E3 5c

Thank You, Minneapolis! S

5.10+

6b+

21

VII+

20

E3 5b

They Only Come Out At Night S

5.11a/b

6c

23

VIII-

23

E3 5c

This is Your Brain S

5.12c

7b+

27

IX-

27

E6 6b

Three Old Dogs S

5.9

5c

17

VI

17

HVS 5a

Thunder Tactics S

5.11c

6c+

24

VIII-

24

E4 6a

Thunder Thighs S

5.11a/b

6c

23

VIII-

23

E3 5c

Tired Arms Recovery Program (T.A.R.P.) S

5.9

5c

17

VI

17

HVS 5a

Tribal Boundary S

5.11b

6c

23

VIII-

23

E3 5c

Trundle S

5.10a

6a

18

VI+

18

E1 5a

PG13
Tuff Shed (aka B&C) S

5.9+

5c

17

VI

17

E1 5a

Under The Gun S

5.11a

6c

22

VII+

22

E3 5c

Unknown 5.10 S

5.10

6b

20

VII-

19

E2 5b

Unknown 5.7 (Earth Day?) S

5.7

5a

15

V+

13

MVS 4b

Unknown 8+ S

5.8+

5b

16

VI-

15

HVS 4c

Unknown Offwidth Trad Route T,TR

5.9

5c

17

VI

17

HVS 5a

Unsaid, The (aka The Brothel) S

5.8

5b

16

VI-

15

HVS 4c

Unusual Weather S

5.11c

6c+

24

VIII-

24

E4 6a

Ussen S

5.10-

6a

18

VI+

18

E1 5a

War In The Banks S

5.10b

6a+

19

VII-

19

E2 5b

Welcome to Shelf Road S

5.10d

6b+

21

VII+

21

E3 5b

What's Biting Me? S

5.11c

6c+

24

VIII-

24

E4 6a

White Dog S

5.10a

6a

18

VI+

18

E1 5a

Who Asked You? S

5.10a

6a

18

VI+

18

E1 5a

Will Purr For Treats S

5.10a

6a

18

VI+

18

E1 5a

Y- Left (submitted as Why Left) S

5.12b

7b

26

VIII+

26

E5 6b

You Were Meant For Me S

5.5

4b

13

IV+

11

MS 4a
Your Difficulty Rating:
-none-
Change
Description
Start with face/crack moves to C1. Move up and left to gain C2. Continue up on good fingery pockets through a left trending section to a great stance at C4.

Go up past good vertical holds bearing right through C5 and C7 to another no hands. Climb straight up on great crack and face moves to the reachy anchors.
Location
Photos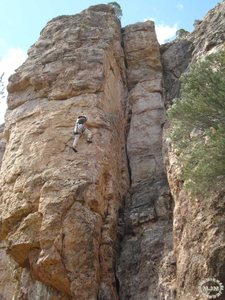 C5.
0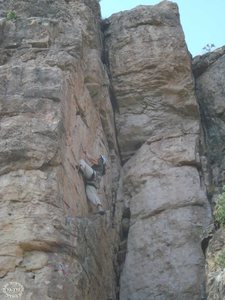 C8.
0