Arsenault-Bouchard
5.10, Trad, Alpine, 1800 ft (545 m), 16 pitches, Grade IV,
Avg: 3.2 from 5 votes
FA: August 1994 - Steve Arsenault and John Bouchard
Wyoming > Wind River Range > E Fork Valley > Ambush Peak
Description
Originally, we were intending to free the earlier route,(Arsenault-Young)done in the early 70's. We thought this line looked better, which paralled the older line, going all free. The route followed up and right, below an arching flake system for two pitches to a large ledge. Continue up and right,(5.9 face), to ledges. Up for 3-4 pitches to huge, protected ledge, behind flakes, (cairn). Up face,(5.9or10), heading for a 200 foot long dihedral which can be seen from ground. At top, trend right onto North Face and follow face and cracks for another 5-6 pitches to top. See photo.
Protection
We brought a few pitons which were useful and placed a few bolts for belays.
Photos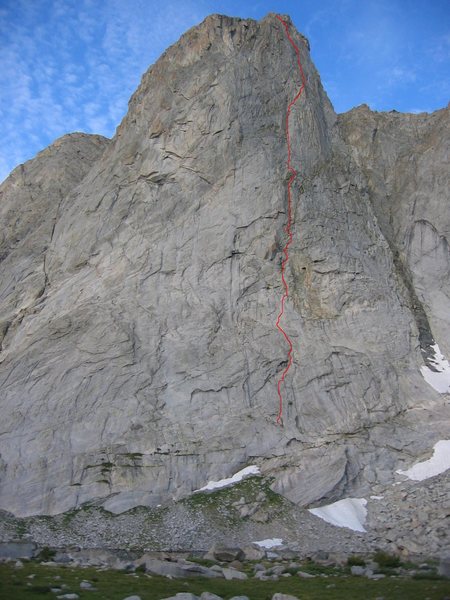 Topo