Dogma
Avg: 2.7 from 10 votes
Your Difficulty Rating:
-none-
Change
Access Issue:
PRECIPITATION AND WET ROCK
Details
The sandstone here is easily damaged when wet. Please allow at least 24-48 hours before climbing after any precipitation. If the ground is at all damp, please do not climb on any local sandstone. Consider nearby options on basalt, limestone, granite, or plastic instead.
Description
The shortest route with the most amount of climbing, Dogma is the wall's candidate for most gnarliest!

Huge huecos, steep pulling, and sandy slopers highlight or lowlight this area's testpiece. Steep and powerful, this route will challenge your strength and mind. A bit of a campus problem, this route won't go down without a fight, but finesse and quick thinking will be needed for a clean go. Hang in there and don't let your guard down, a showstopping crux waits for the struggling climber at the exit.
Location
Dogma is the left-most and shortest route at the crag. It is easily the most aesthetic and inviting route at the wall.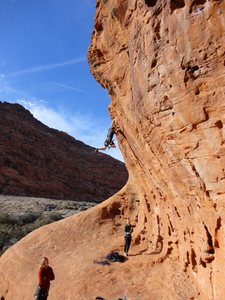 fun
0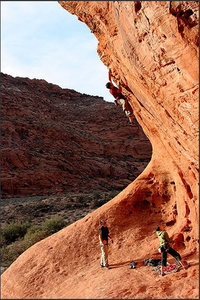 Dogma
0