Nurse Hook
Avg: 2.9 from 29 votes
| | |
| --- | --- |
| Type: | Sport |
| FA: | unknown |
| Page Views: | 2,069 total · 14/month |
| Shared By: | 20 kN on Nov 14, 2009 |
| Admins: | 20 kN |
Your Difficulty Rating:
-none-
Change
Access Issue:
Electronic Waver
Details
As of January 25, 2015, the Moke has been reopened after a lengthy challenge in obtaining a permit to climb at this area . All climbers are required to sign an electronic waver before climbing at the Moke. You can find the waver here:
hiclimb.org/join.php
Access at this area is fragile, and the area is only open conditionally. The State requires that climbers exercise good stewardship in order for our access to remain.
Please note the following rules:
- Dogs and alcoholic beverages are prohibited by law at the Moke, on the approach, and in the parking lot.
- No fires
- Do not deface the cliff
- No amplified music
In addition, please show the state we are good stewards of the land by following the following guidelines:
- Treat other users with respect
- Help clean up chalk and tick marks
- Identify and report safety hazards
- Stay on established trails
- Dispose of human waste appropriately and pack out toilet paper
- Keep a low profile by minimizing noise
- Pack out all gear, rubbish, and practice leave no trace ethics
Description
Start by climbing the first few feet of New Year's Crack until you can reach over and clip bolt one on New Year's crack. Once you clip the first bolt, cut straight right over to bolt two. Then continue on balancey moves to join Dr. Hook at the top and finish on the Dr. Hook anchor.

Variation (5.11b): Nurse Hook Direct; instead of starting on the left on New Year's Crack, start under the first bolt and head straight up the face. The variation is only relevant to the first bolt, after that you're on the standard Nurse Hook line. This is probably the easiest 5.11a at The Moke and a great first 5.11 lead.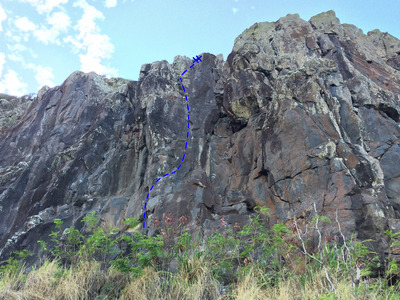 .
0